While many questions remain about the case of Jacques Teixeira, the court revealed that the 21-year-old Pentagon leaker wanted to kill "a lot of people around the world" and hung Russian military medals on his bedroom wall.
According to court documents, Teixeira regularly made violent comments and insinuations of murder, including saying he would "kill a large number of people in order to execute the weak-minded".
The court also considered that this young man still poses a continuing threat to national security, expressing concern that "hostile nation-states may provide him with safe haven and facilitate his escape from the United States."
And it warned that the nature of the materials that the twenty-year-old had seen, not all of which were publicly shown, has the potential to cause additional and exceptionally dangerous harm to the national security of the United States if it was disclosed, according to what Western media reported.
The accused Pentagon Papers leaker hung a Russian armed forces necklace and used human images as bullet-riddled targets to decorate the walls of his room.
Belongings of Jacques Teixeira (Reuters)
According to the documents, "the defendant kept his gun locker approximately two feet from his bed" which contained "multiple weapons, including pistols, automatic rifles, shotguns, a high-capacity AK and a gas mask."
FBI agents also found ammunition, tactical bags on his locker, and "what appeared to be a silencer-style accessory in his desk drawer."
Comments about violence and murder
The shocking revelation raised questions about how Teixeira was accepted into the Air Force and secured such a high security clearance.
Evidence obtained from the social media platform also indicated that he "was making regular comments about violence and killing."
Teixeira applied for a firearm identification card on three separate occasions, first in 2018 when he was still a teenager.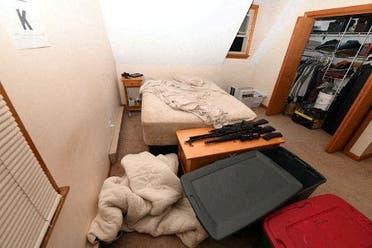 Belongings of Jacques Teixeira (Reuters)
However, it was denied "due to the local police department's concerns about the defendant's statements at his high school."
The documents indicated that he was suspended from high school after a classmate overheard his remarks "about weapons, including Molotov cocktails, and guns at school and racist threats". When asked, he said the comments were a reference to a video game.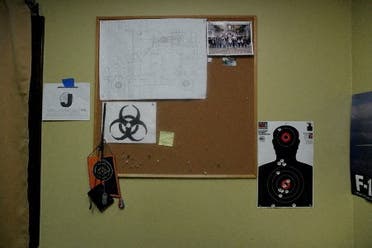 It is noteworthy that Techira was arrested in the middle of this month, by FBI agents who came with an armored car and military equipment and surrounded his home in Dayton, Massachusetts, after he was accused of leaking confidential and sensitive documents.