The Saudi Cabinet addressed the contents of the two Gulf-US meetings on Iran that were held under the presidency of Saudi Arabia, with an emphasis on the common determination to contribute to the security and stability of the region, condemnation of Iran's aggressive policies, support for international efforts to prevent its possession of nuclear weapons, and its call for full cooperation with the International Energy Agency and to return urgently to the comprehensive action plan, in preparation for diplomatic efforts with the participation of the concerned parties to address all issues related to ensuring the sustainability of security, safety and prosperity in the region.
This came during the Cabinet session, today, Tuesday, via video conference, chaired by the Custodian of the Two Holy Mosques, King Salman bin Abdulaziz, Prime Minister.
During the session, the Cabinet was briefed on the content of the phone call that the Custodian of the Two Holy Mosques received from Sheikh Mishaal Al-Ahmad Al-Jaber Al-Sabah, Crown Prince of the State of Kuwait, as well as all meetings and meetings that took place between officials in the Kingdom and their counterparts in a number of countries during the week, to develop relations and push them to horizons. Broader, in a way that enhances and consolidates cooperation in all fields, and everything that supports international peace and security.
In this context, the Council discussed the decisions and recommendations of the (eighteenth) session of the Joint Defense Council of the Cooperation Council for the Arab States of the Gulf, welcoming the opening of the headquarters of the unified military command in the city of Riyadh, to enhance the process of joint defense work in a way that contributes to the security and stability of the region.
King Salman during the Cabinet
The dangers of terrorist financing
The Minister of Information in charge, Dr. Majid bin Abdullah Al-Qasabi, said in his statement to the Saudi Press Agency "SPA", that the council followed up on the developments of events and developments on the regional and global arenas, and the international efforts made in their regard, reiterating what was confirmed by Saudi Arabia during the special meeting at the United Nations on " Threats and trends in the field of terrorist financing and the implementation of Security Council Resolution No. 2462, with interest in strengthening international cooperation in the field of combating money laundering and the financing of terrorist acts and preventing the provision of any form of support to entities and persons involved in it.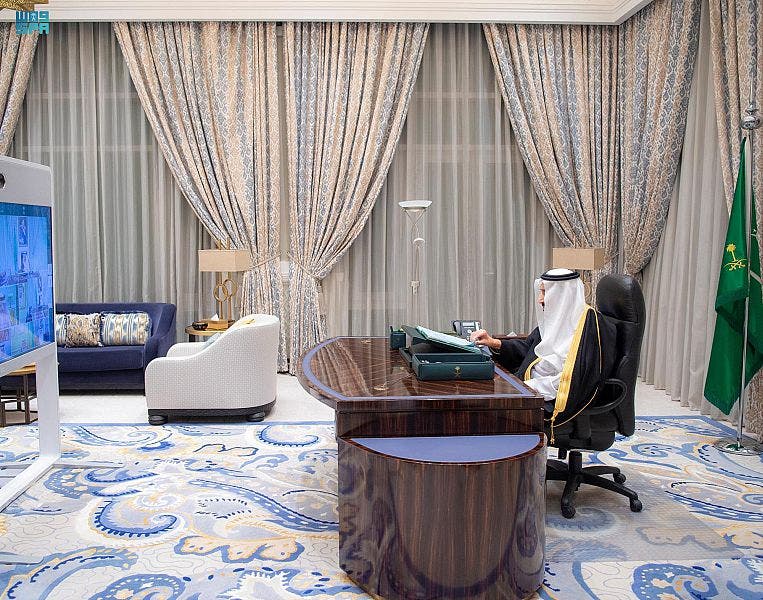 Via video call .. King Salman in the Council of Ministers
The transitional period in Sudan
Al-Qasabi indicated that the Council of Ministers welcomed the agreement reached by the parties to the transitional phase in the sisterly Republic of Sudan on the tasks of the next phase, restoring the transitional institutions and arriving at the elections on time, stressing the Saudi position in support of everything that would achieve peace and maintain security, stability and development in the country. Sudan.