The Municipality of the Holy Capital revealed the readiness of its service plan for the Hajj season this year, which is implemented by more than 22,000 people, and includes all municipal works, which comes as an extension of the follow-up of the Ministry of Municipal and Rural Affairs and Housing.
In the details provided by the official spokesman of the Municipality of the Holy City, Osama al-Zaytouni told Al Arabiya.net: The work plan of the Secretariat included all 16 sub-municipalities, which work in all municipal services, where the number of employees of the Secretariat of the Holy Capital reached 3159 individuals, in addition to To 3,600 employees of operating, maintenance, lighting, cleaning facilities and slaughtering units, and 500 health and temporary observers. As for the workers of the cleaning contractor, their number is more than 14,000, distributed between Makkah and the Holy Sites, in addition to 1,250 supportive personnel from Public Security. Mujahideen and Scouts.
In the field of hygiene, Al-Zaytouni pointed out that the latest equipment such as compressors, robotic vacuums, tippers, Bobcats, and others have been equipped, and work will be 24 hours in crowded areas, with an overlapping shift system, in addition to allocating central teams to face any emergency situations, or to support any area in case As needed, a number of electric waste compacting boxes and solar-powered boxes have been prepared for use during the season.
He indicated that the holy sites were supported by monitors and supervisors, in addition to their support with the necessary equipment such as straws and robotic brooms to collect waste from the bridge, bobcats, tippers, and others.
While he revealed the statistics of the equipment and services provided by saying: The number of floor warehouses is 140, used for temporary storage of waste after being compressed in Mina to face the difficulty of moving equipment, and the number of waste compacting boxes is 1379, in addition to 9 large compressor trailers, and 530 equipment of different sizes and uses. The Municipality has also equipped 65,000 waste containers of different sizes. In the field of environmental sanitation, the Secretariat has allocated 707 technical cadres to carry out spraying and pest control operations, while providing more than 1,100 devices and tools for the control and spraying of pesticides.
He said: The plan also included following up the operation of various municipal facilities in Makkah and the holy sites, such as roads, lighting networks, maintenance of tunnels and lighting.
From municipal works submitted
Bridges, tunnels and services
There are 381 main streets in Makkah and the Holy Sites, and more than 18,000 secondary streets, with a total length of more than 5600 km. There are also 58 tunnels with a total length of about 35 km, as well as about 60 bridges of different lengths and designs, and toilets that number about 100 cycles in separate locations, in addition to maintaining and inspecting torrent drainage networks in Makkah and the holy sites and ensuring their efficiency during the season. And follow up the contractors assigned to operate it to ensure that services are provided at a high level during the season and on a regular basis.
Technical teams have also been allocated to quickly handle the reports received through the secretariat's operations, in addition to allocating an emergency unit and support teams that are available 24 hours a day, and are equipped with personnel and equipment to deal with emergency situations such as fires, collapses and rain, in coordination with all relevant authorities through liaison officers. Honestly.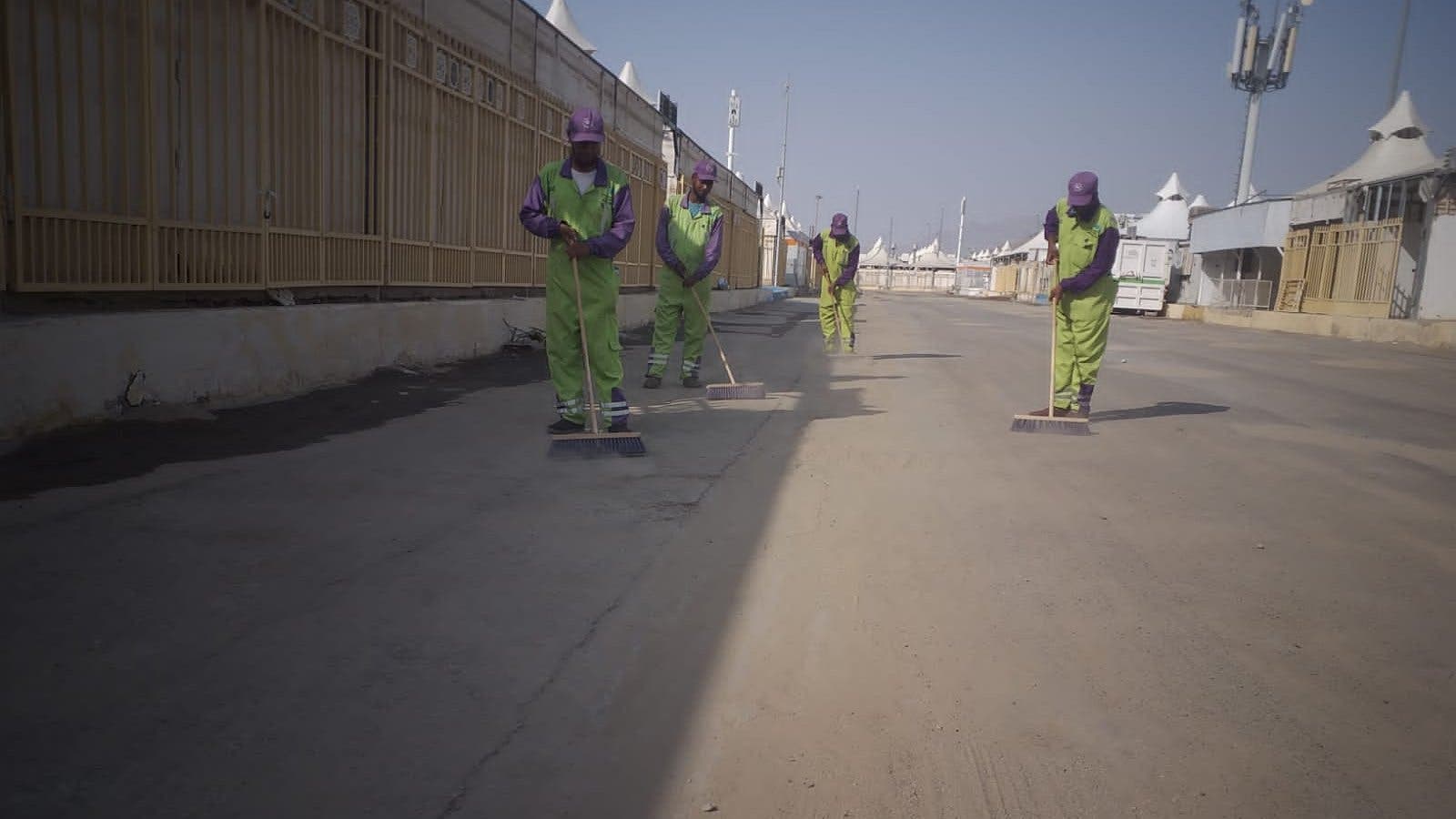 Sweeping and cleaning work
lighting networks
Al-Zaytouni added that the Municipality is supervising the operation and maintenance of a huge lighting network that covers most neighborhoods and residential plans, including villages and Bahra Governorate. Makkah Al-Mukarramah at various heights, and 5,000 towers and columns in the holy sites of various heights.
He revealed that the secretariat has established 28 service centers in the holy sites, which are geographically distributed, covering the entire area of ​​the holy sites, including 22 centers in the Mina area, 3 centers in Arafat, and 3 centers in Muzdalifah, and each center was equipped with a number of equipment, mechanisms and cadres. In addition, 7 support centers were equipped to deal with emergency cases during the season, receive notifications and direct labor and equipment according to the needs of regions and cases, and were provided with all the necessary devices, mechanisms and manpower.
The Municipality is currently carrying out rehabilitation, sweeping and cleaning the streets of the holy sites and the leading roads, using sterilization materials that are not harmful to public health and environmentally friendly, in order to prepare them to receive the pilgrims.