Today, Wednesday, the US State Department announced its support for transferring the file of the Varosha resort in northern Cyprus to the Security Council, owing to Turkish President Recep Tayyip Erdogan's recent statements about it.
For her part, France's delegate to the UN Security Council, whose country currently chairs this UN institution, announced that the council will hold consultations today, Wednesday, on the UN peacekeeping force stationed in Cyprus.
For his part, Cyprus Foreign Minister Nikos Christodoulides said today that his country has appealed to the Security Council regarding the transfer of the right of control over part of the deserted coastal city of Varosha on the divided island to the Turkish Cypriots.
It is noteworthy that the meeting of the Security Council on the Cyprus file on Wednesday afternoon was previously scheduled, before the latest Turkish announcement.
The Cypriot city of Varosha has been deserted since a war in 1974 divided the island.
Turkish Cypriots and Turkey said on Tuesday that a small part of the abandoned city of Varosha would come under civilian control for possible resettlement.
The Turkish Cypriots said that the residents would be able to reclaim their property in this part of Verosha, which angered the Greek Cypriots, who accused their Turkish Cypriot rivals of orchestrating a surreptitious land grab.
"This is a clear violation of the resolutions of the United Nations Security Council, and it will have a negative impact on the ongoing efforts to resume negotiations," Christodoulides said after a meeting with his Greek counterpart Nikos Dendias today.
For his part, Dendias said, "Yesterday's announcement from the Turkish side aims to create a new fait accompli to eliminate forever the possibility of Cyprus reunification."
For its part, France criticized today the announcement by the Turkish Cypriot authorities of the partial reopening of the city of Verocha for possible resettlement, describing it as a "provocative" act.
A French Foreign Ministry spokesman said Foreign Minister Jean-Yves Le Drian had discussed the matter with his Cypriot counterpart on Tuesday and would raise the issue at the United Nations.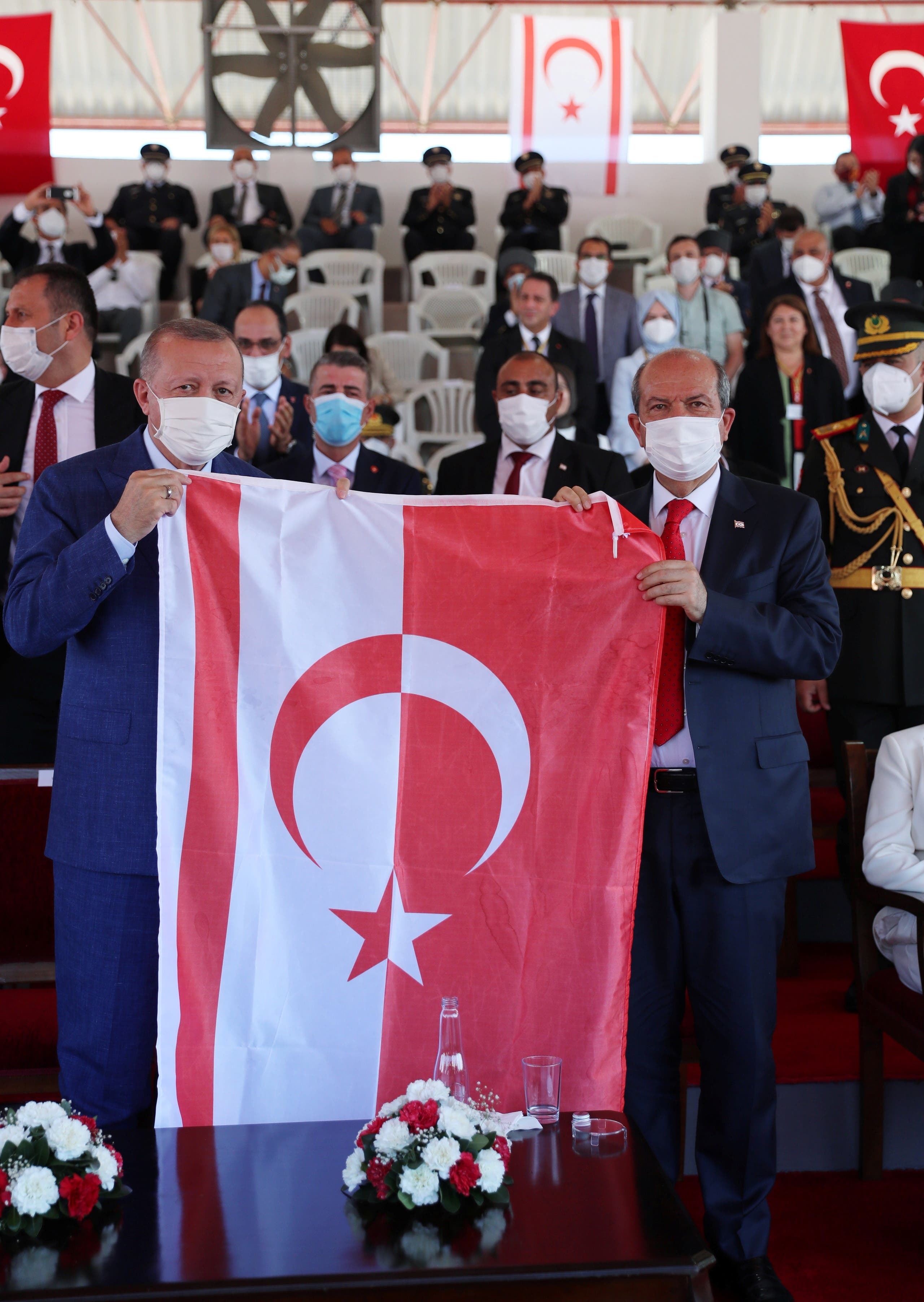 From Erdogan's visit yesterday to Nicosia
A spokesman for Le Drian said: "France deeply regrets this unilateral step, which was not consulted, and which represents a provocation and harms efforts to rebuild confidence required to return to urgent talks in order to reach a just and lasting solution to the Cyprus issue."
The European Union, the United States, Britain, Greece and Egypt also opposed the plan, which was unveiled when Turkish President Recep Tayyip Erdogan was visiting Nicosia on Tuesday.
Efforts to bring peace to the ethnically divided island have repeatedly faltered. The new Turkish Cypriot leadership, backed by Turkey, says a peace agreement between two sovereign states is the only viable and sustainable option.
For their part, the Greek Cypriots reject the two-state solution that grants sovereignty to the breakaway Turkish Cypriot state in the north of the island, which is recognized only by Ankara.
.