VKNaresh is one of the few actors in Tollywood to have earned his own recognition as a hero and character artist. I do not want any special acquaintance with him. He continues to express his uniqueness as an actor, playing a variety of roles in contemporary films. It is also a known fact that everyone calls him Senior Naresh. It is rumored that a senior actress will be getting married soon. That night is not someone .. Pavithra Lokesh. She has also acted in several movies with senior Naresh. It has been rumored in Tollywood that they have been in love for some time and are in a live-in relationship.
ALSO READ:
Rajinikanth: Megastar Chiranjeevi imitates superstar Rajinikanth.
Cine Circles Talk has already had three weddings with senior heroine Naresh (Senior Naresh), the star heroine of the day and the producer of the show. He was divorced from all three .. They were divorced. Now it is rumored that she is getting ready for her fourth wedding. In the case of Pavitra Lokesh, she married Suchendra Prasad in 2007. Separated from him due to mental conflicts and living alone. However, they are not yet divorced. When the divorce comes .. the news that Naresh – Pavithra Lokesh will get married is heard loudly.
Inspired by this news, Naresh and Pavithra Lokesh recently took the blessings of a Swamiji from Mahabaleshwar. In fact Pavithra Lokesh is directing a movie. There is also talk that they went to Mahabaleshwar for that matter. But on social media, news is circulating that the two will get married. The news only got worse as they did not even deny it at the beginning.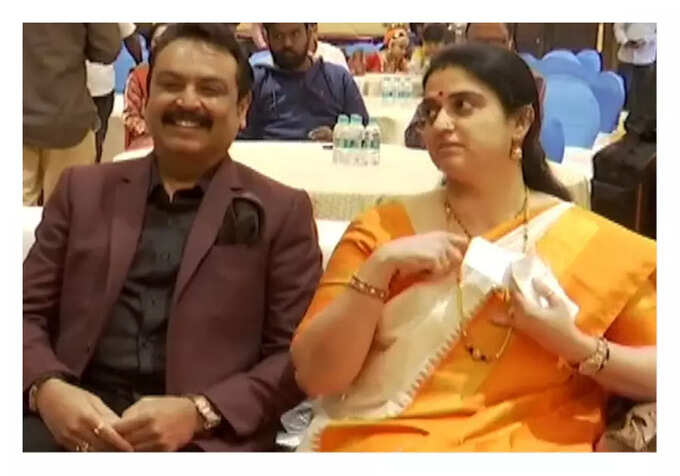 But this is Naresh .. and Pavithra Lokesh nowhere, never mind this thing. But on social media, the news is going strong. Did Naresh know about the news of his fourth marriage? Do you remain silent because you know the truth? Is not understood. Otherwise, if he thinks that there is a controversy regarding an outside personal matter .. Can you give any details? Is to be seen.
ALSO READ:


If all four of them like it, movies will be released .. The industry is made like this: KS Rama Rao
ALSO READ:


Baahubali 2 Records Breaking .. 'Vikram' OTT Date Fix .. Swinging Fans!
.