After the government's apologies for the slavery past, it is now about the money that goes with it. The 229 million that has been reserved is subject to debate in the House of Representatives.
The members feel 'uncomfortable' to talk about money, but the House of Representatives is still faced with the question: how much money is involved in the excuses the cabinet made for the slavery past?
Because it was Prime Minister Rutte who concluded the apology with the words that 'a comma, not a full stop' would be added. His cabinet has already set aside 29 million euros for a museum, but also another 200 million euros for a fund for 'awareness' of the colonial past, although it is not yet clear how this will be spent. But parties in the House of Representatives are divided on that amount.
Also listen to our podcast Politics Close, and subscribe via Spotify or Apple:
On the one hand, there are parties who think the fund goes too far. "In times of crisis, we should not spend money on such a fund. Separate grants can also be applied for", says Caroline van der Plas (BBB). The PVV speaks of a 'ridiculous' fund and the SGP also considers it a 'risk' to 'mix' the past with 'contemporary discussions about discrimination'.
On the other hand, there are parties that want to go further. For example, the PvdA feels in favor of 'reparations', while right-wing parties fear billions in claims. "We must be able to talk about the impact of slavery to this day," said Kati Piri (PvdA). Although she added that it should not concern 'individual compensation'.
And Sylvana Simons (BIJ1) thinks a museum is fine, but one with 'dependances' in the former colonies. Moreover, like Denk, she wants July 1 to become a national holiday. That was the day of the abolition of slavery.
Coalition parties VVD, D66, CDA and ChristenUnie stick to the middle ground: the 229 million that the cabinet already wants to allocate. D66 MP Salima Belhaj tries to appease opponents' fears: ,,I don't want the Dutch to think: it's about money. But many of the descendants of enslaved people I have spoken to say precisely: it is not about money."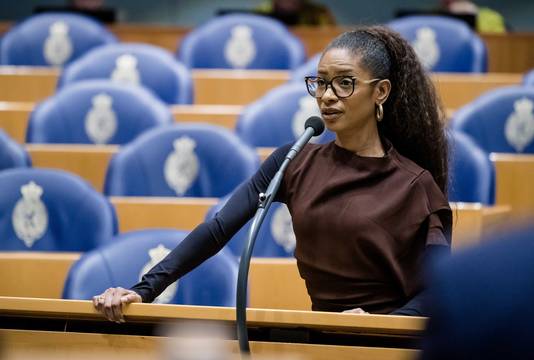 For example, the debate still has open ends, because there is not yet a real plan for the implementation of the 200 million. According to those involved, the amount would have come about 'on the back of a beer mat'. "It is now still a money-seeking plan instead of a plan-seeking money," said an official involved.
The cabinet asks for patience. According to Prime Minister Mark Rutte, 'we' are only at the beginning of a long journey. "The talks about the fund are ongoing, in full swing." This includes money for education, art, additions to history books, but also the free changing of slave surnames. Next to the mentioned museum, of course. "We want to shape that with descendants of slaves and those involved." And that will partly take several years, so that the amount can still increase if – as is the plan – 8 million euros are allocated annually. And with that, the discussion about usefulness and necessity will return when more concrete plans are made this spring.
Bruins Slot has the option of a day off on July 1 examined
Minister Hanke Bruins Slot (Internal Affairs) is open to the idea that July 1 will be a day off on which the slavery past is commemorated and the end of it is celebrated. She has asked the commemoration committee that deals with this past to investigate this option, although she says she cannot make a decision about it herself.
According to the minister, whether July 1 should become a day off should be decided in the collective labor agreements, after advice from the Labor Foundation. The minister has asked the commemoration committee to enter into discussions with employers' and employees' organisations.
The House of Representatives has long wanted to declare July 1 a national holiday. In 2021, a motion by Salima Belhaj (D66) received the support of a majority in parliament. A petition calling for this was also signed more than 60,000 times.
The originally Surinamese holiday Keti Koti is celebrated on July 1, because on that date in 1863 it was decided by law to end slavery. In fact, this only came to an end ten years later.
The national government itself is also a major employer. An experiment is underway to give civil servants the option to take time off for public holidays that are not already laid down in law. Bruins Slot wants to ensure that people who participate in this are also allowed to take time off during Keti Koti. She has also asked the memorial committee to consider a possible flag instruction.
Watch all our videos about politics here:
Free unlimited access to Showbytes? Which can!
Log in or create an account and don't miss a thing of the stars.

Yes, I want free unlimited access