Yemeni local and media sources said today, Wednesday, that at least seven people were killed in torrential rains that swept large parts of the governorates of Al-Mahra and Shabwa, in the east of the country.
From the torrential rains that hit eastern Yemen today
The sources stated that three women and two children drowned in the torrential rains in the Bayhan area, north of Shabwa, while two others died in Al-Mahra governorate.
In Hadhramaut governorate, heavy rain flooded separate areas of the valley districts, causing road blocks and significant material damage, while helicopters intervened to evacuate stranded people in Seiyun district, according to what was reported by the Yemeni newspaper, Aden Al-Ghad.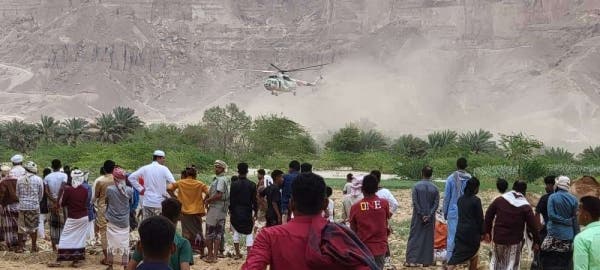 Helicopters intervened to evacuate stranded people in Seiyun District
Most of the districts of Shabwa, Al-Mahra and Hadhramaut governorates witnessed heavy rain accompanied by strong winds, which turned into torrential torrents.
The National Center of Meteorology in Yemen had warned of the occurrence of a rainy depression in a number of Yemeni governorates, including Shabwa, calling on citizens to be careful and not to pass through the streams of torrential flow and valleys.
Last year, floods in Yemen left dozens dead and forced tens of thousands to leave their homes.
.