Chandragiri MLA Chevireddy Bhaskar Reddy is being lauded by netizens .. When will Rayalacheruvu be flooded .. When will the inland areas be submerged? Chevireddy was given credit for the fact that photos and videos of him delivering essential goods in Indian Air Force helicopters went viral.
If Rayalacheruvu falls, most of it will fall on the villages in Chandragiri constituency. With this, MLA Chevireddy Bhaskar Reddy stayed at Rayalacheruvu day and night and supervised the leakage works. Heavy sand, gravel and cement were brought in to bury the leakage and warlike measures were taken.

18 villages near Rayalacheruvu were evacuated and rehabilitated in Tirupati. With this, MLA Chevireddy Bhaskar Reddy himself airlifted the essentials to the flooded areas with the help of an Indian Air Force helicopter. Essential items were handed over to the people of Seekepalli, Chittathoor, Rayalacheruvu and Pullamanayudukandrika villages in Ramachandrapuram zone. Essentials were also distributed to the displaced in Vinayak Nagar Colony in Tirupati Rural Zone.
The situation at Rayalacheruvu is ..
Chittoor district administration was alerted after the Rayalacheruvu dam near Tirupati collapsed. With a TMC water storage capacity of about one TMC, 40 villages are likely to be inundated if the dam is breached. As a precautionary measure, the people of those villages are being shifted to safer areas. Authorities have prepared helicopters to take relief measures in case the pond dam breaks. In this context, 5 helicopters reached Renigunta Airport.
The pond embankment is 60 feet deep. The bottom is 120 feet wide. The top is 45 feet wide. The villagers say that the bottom is 120 feet wide and it is not possible to go down to the bottom. It is said that if the sluices could be restored and a large amount of water could be let down … there would be no chance of the dam breaking. However .. water is leaking from the dam .. .. .. .. .. .. .. .. .. .. .. .. .. .. .. .. .. .. .. .. .. .. .. .. .. .. .. .. .. …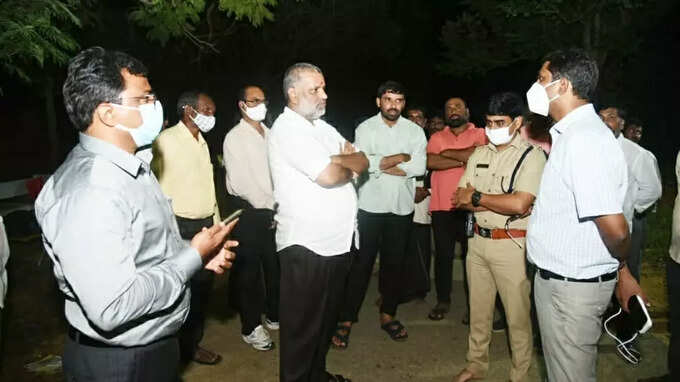 Chittoor District Collector and other officials are near the pond to review the situation. Attempts are being made to bury sand and gravel bags in the area where the soil was washed away.
.