Mythological movie 'Shakuntalam', directed by Gunasekhar and starring Samantha and Dev Mohan, started in Hyderabad on Monday. The opening ceremony of the film was held on the set of 'Shakuntalam' specially made at Annapurna Studio. Leading producers Dil Raju, Allu Arvind, Samantha, Dev Mohan, Gunasekhar, Neelima Guna and Dil Raju's daughter Harshita Reddy were present on the occasion. The film is being produced by Dil Raju and produced by Gunasekhar's daughter Neelima Guna. Introduced as a blue producer by 'Shakuntalam'.
Jaspreet Bumra married TV presenter .. Who is Sanjana Ganesan?
The film unit spoke to reporters after the inauguration of 'Shakuntalam'. Speaking on the occasion, Samantha Akkineni said, "I have always had a little pain. I thought I couldn't play some roles. I did all the characters like Romantic, Villain, Action. But my dream role is a periodical role, not a princess role. I still watch Disney movies if I'm free. Giving this role at such a time in my career is an unforgettable great gift.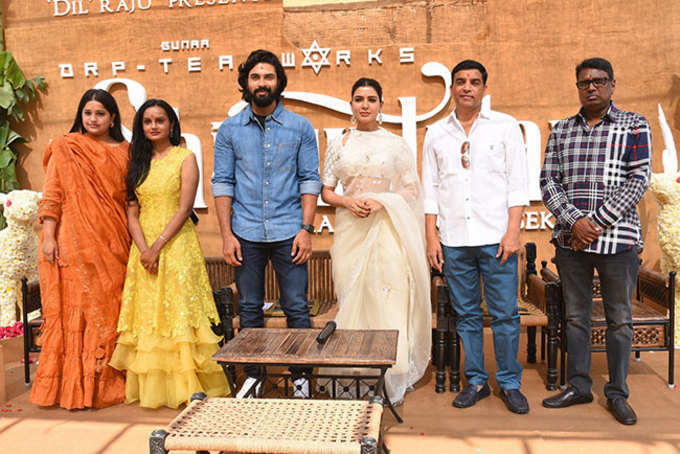 Dil Raju and Gunasekhar gave a wonderful opportunity. One hundred percent I do what I have to do. Gunasekhar narrated every scene wonderfully. Neelima said there were no references if asked. Everything is in the director's mind. It was a great pleasure to play this role. This movie budget is beyond my range. However, I will do my best, "he said.
Samantha learned everything four months ago: Gunasekhar
Manisharma is composing the music for the film. Shekhar V Joseph is providing the cinematography. Praveen Pudi Editor. Nita Lulla is a costume designer. Sai Madhav Burra is writing dialogues. Chaitanya Prasad and Srimani are providing the lyrics. King Sundaram is a choreographer. Algar Sami VFX Supervisor, Venkat Stunt Choreographer, Biswadeep Chatterjee Sound Designer. Thus Shakuntalam is opening with a huge budget with the best technicians.
.