Published: 23 Feb 2021 03:15 am
Updated: 23 Feb 2021 07:59 am
Published: 23 Feb 2021 03:15 AM
Last Updated: 23 Feb 2021 07:59 AM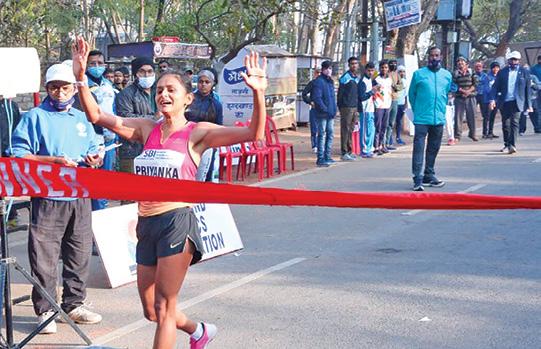 Priyanka Goswami set a new national record by covering a distance of 20 km in 1 hour 28 minutes and 45 seconds at last week's national walk for women in Ranchi, Jharkhand. He has thus qualified to represent India at the Tokyo Olympics.
Priyanka Goswami hails from Meerut in Uttar Pradesh. For Meera, it was an accident that she became a walking racer. He was a gymnast until he was in 6th grade. He has won many prizes at the school level for this. During this time there was a walking competition in the county. It was announced that the winners would be presented with a beautiful bag carrying books with a medal. Since Priyanka needed a bag at that time, she has taken part in the competition. Already a gymnast, Priyanka has been instrumental in this race. Priyanka won the bronze medal in this race. Since then he has been training with coach Gaurav Tiyagi to make walking racing his favorite.
"When it comes to walking, we should not bend our legs while walking. Likewise always have a foot on the ground for something. I have taken a lot of blows from my coach for this, "says Priyanka. Priyanka has been training at the Sai Training Center in Bangalore for the past 18 months, aiming for the Olympics. It is noteworthy that for this he walks 250 kilometers weekly.
.