Published: 21 Feb 2021 03:18 am
Updated: 21 Feb 2021 07:22 am
Published: 21 Feb 2021 03:18 AM
Last Updated: 21 Feb 2021 07:22 AM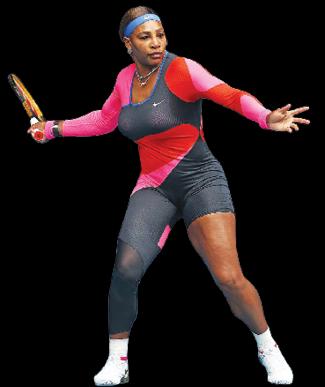 The dress worn by Serena Williams at the Australian Open tennis tournament impressed everyone. Tennis players usually wear short skirts. But at this year's Australian Open tennis tournament, Serena Williams wore shorts on one leg and pants on the other leg. Like Serena's game, her style of dress was well received by tennis fans.
When asked by reporters about this different style of dress, he said, "It is nothing new in the sports world to dress like this. A few years ago, Florence Griffith Joiner wore a similar outfit. Renowned athlete and Olympic medalist, he is also known for wearing different outfits. I really like the clothes he wore as a child. Back then I really wanted to dress like him. That dream has now come true. I innovated one of the clothes he wore and used it at this Australian Open tennis tournament. I did not expect it to attract so many fans. "
Serena Williams is the only player to win more than 90 games at the Australian Open, winning the 4th round of the Australian Open this time.
.