In Uttar Pradesh Aligarh, a son killed his mother who was receiving money along with his girlfriend. G. Muniraj IPS, who directly investigated the case, recovered jewelery worth Rs 1 crore in the next 24 hours and arrested 4 persons. Arrested Did.
Kanchan Verma lived alone in Saroj Nagar Colony in Aligarh's Quarsi area. Her husband, Kuldeep Verma, runs a jewelery shop called KK Jewelers in Aligarh.
They have two daughters and an only son and live alone. His son Yogesh Verma has romantically married a girl named Chitra Sharma 4 months ago despite parental opposition.
Thus, to live alone, Kanchan and Kuldeep Verma couple have been living in Aligarh house. The miser, who was alone last Friday evening, was found murdered in the bathroom of his house.
This information was known by a relative who entered his open house and was reported to the Aligarh Police. Knowing this, SSP Tamil G. Muniraj went there in person.
Subsequently he began to investigate the case under his direct supervision. Only images of the two were recorded on its CCTV footage.
Diamonds, gold, silver jewelery and Rs 1 lakh worth of cash worth Rs 1 crore were stolen from the house for sale at the shop. It is suspected that Aligarh was robbed and killed by a gang of robbers.
The inquest also confirmed that the murder may have been committed by people familiar with the house. The next day, Officer Muniraj interrogated his son Yogesh, who had performed his mother's funeral.
Yogesh, who was then unable to answer his questions, finally confessed yesterday after being arrested last night.
Commenting on this, G. Muniraj, SSP, Aligarh, told the Hindu Tamil Directorate, "From the beginning, we were suspicious of our son Yogesh and continued to monitor his activities.
Eventually he admitted what the four had done together as his wife, friend and his girlfriend with no other option. The murder was staged for money because his parents did not approve of his romantic marriage. ' He said.
The mother has opened the door to her son Yogesh who came home at two in the afternoon. Following him, Yogesh's friend and girlfriend enter.
They then looted the jewelery from the house, strangled the mother with a sari, laid her in the bathroom and fled. The case, which caused a stir in Uttar Pradesh, was discovered in the next 24 hours and has been praised by the public.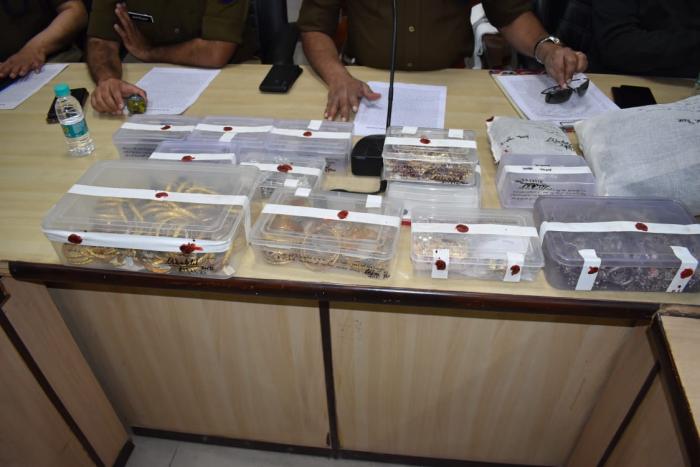 All the jewelery looted in this case has been confiscated. Yogesh's wife Sonam alias Chitra Sharma, friend Dhanush Chaudhary and his girlfriend Sehjal Chauhan were arrested this morning.
G. Muniraj, a Tamil who served as SSP in the main districts of UP, is known by the people of the state as the 'Lion of UP'. This was due to the filing of a case against the BJP MLA and her son to prevent sectarian violence while he was working in Bareilly.
.