Last Updated: 05 Jun, 2022 05:02 AM
Published: 05 Jun 2022 05:02 AM
Last Updated: 05 Jun 2022 05:02 AM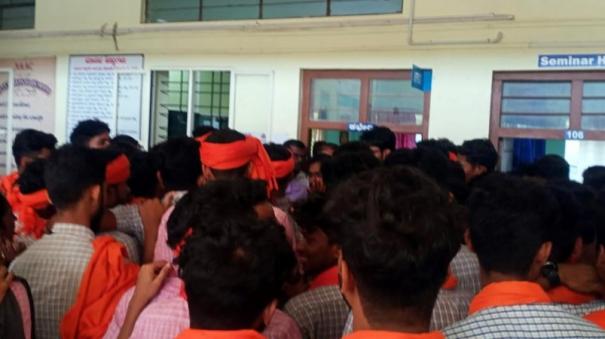 Bangalore: Muslim students protest again in Karnataka seeking permission to wear hijab.
The state government has banned students from wearing hijab (headscarf) in educational institutions in the state of Karnataka. Protests took place in many parts of the state of Karnataka against it. Muslim students at school and college boycotted the exams, condemning the ban on wearing the hijab. However, the High Court ruled that the ban on wearing the hijab in educational institutions would go through.
The case filed by 6 Muslim students against this is pending in the Supreme Court.
Now that schools and colleges have reopened, some Muslim students in places including Udupi and Mangalore have demanded the college administration to allow them to wear hijab to the classroom. Students have been involved in protests here and there due to lack of permission. Condemning this, there was a stir in Udupi as ABVP students took part in the struggle.
In this context, the Karnataka Examinations Commission has issued a circular stating that one should not wear religious attire, including hijab, for the Common Entrance Test (CET) for admission to professional courses. Muslim students have protested.
.