The Central Doctors Committee in Sudan called on the resistance committees and field work committees in the capital, Khartoum, and all regions of Sudan and leaders of revolutionary activities; To work to keep children away from demonstrations and protests in which tear gas is used, or any manifestation of violence, and justified this by keeping children healthy in body, mind and spirit.
And it said in a statement issued by it yesterday, Friday, that it maintains not a few statistics on the wounded and disabled under the age of majority during the demonstrations that followed the measures of the 25th of October.
psychological effect
The Central Committee of Physicians also explained that psychology confirms that children's exposure to trauma, whether on them or by witnessing the disasters that occur in front of them at this age, affects their psychological well-being and the formation of their personality in the long run, and warned parents against accompanying children.
The committee added that it does not want the demonstrations to cause any form of physical or psychological disabilities, which may affect a single child in future generations.
The pioneers of the communication platforms circulated pictures of a child under the age of majority returning the tear gas canisters fired by the security forces to disperse the demonstrators in central Khartoum. Comments about the child poured out between a critic and a rejection of the idea of ​​involving children under the age of 18 in the protests, and a supporter of the child's behavior.
Renewed invitations to demonstrate
At the same level, calls for demonstrations were renewed from the resistance committees, and the Omdurman Resistance Committees issued a statement yesterday evening calling on the masses of the Sudanese people to demonstrate tomorrow, Sunday, to demand the removal of the military and the handover of power to a civilian government, and to reject the exceptional decisions made by the Commander-in-Chief of the Armed Forces, Lieutenant-General Abdel Fattah. Al-Burhan, according to which the Sovereignty Council and the Ministers were dissolved on the 25th of October.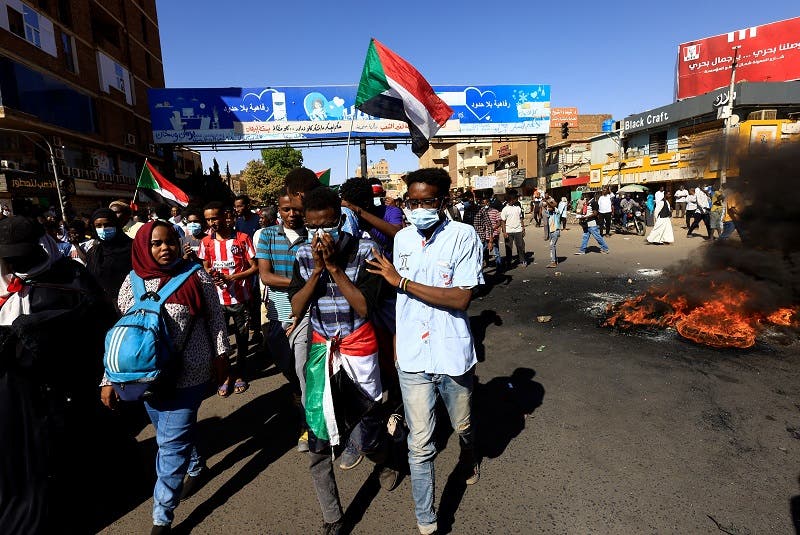 From the Khartoum demonstrations – Reuters
It is noteworthy that since the resignation of Prime Minister Abdalla Hamdok on January 3, international calls have been continuing to expedite the formation of a civilian government as soon as possible, paving the way for elections to be held in the country, as stipulated in the 2019 constitutional document.
The protests also continue, rejecting the agreement signed by Hamdok with the Commander of the Armed Forces, Abdel Fattah Al-Burhan, on last November 21 (2021), proving the partnership with the military component in running the country temporarily until the elections next year.