Sacrifice star Sunishit has a long history to tell. He is not a star but he feels more like a big celebrity and poses for the tribe. Sunishit's comments on Tollywood stars in the past have provoked outrage. Before that movie chance came to me but I gave it to myself when the hero asked. A star heroine married me. Dated another star heroine .. Sunishit became famous overnight with such unbelievable words. With this, his words, which were branded as Sacrifice Star, went crazy. Some of the heroines, however, became serious about filing cases against Sunishit and went missing.
However, Sunishit, who has been posting on his social media accounts from time to time, has once again gone into the cine track like before. Meanwhile, Nagarjuna made headlines by commenting on 'Bangarraju'. " It has become a fashion to give success meet to uplifted movies ..! I do not like to be told this story two years ago, I can not take it with anyone. This post went viral. Seeing this, netizens are playing him. I can not put into words the comment they are making, baboy.
I can not express my love for you in words .. Shreeja Emotional Post
As for Bangarraju, the film is a sequel to Soggade Chinninayana, directed by Kalyan Krishna. Starring Akkineni Nagarjuna, Naga Chaitanya, Kriti Shetty and Ramyakrishna in the lead roles, the film was released on January 14 as a Sankranthi gift and rang the Vijaya Danka at the box office.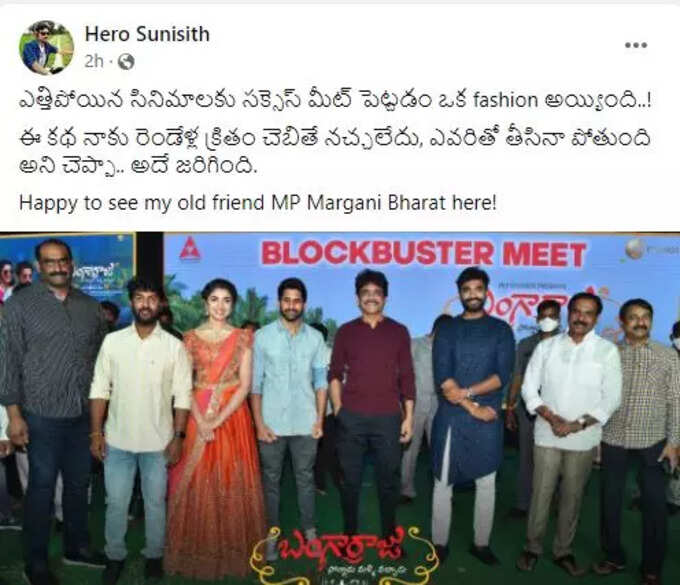 .