Highlights:
Surekha Vani Rachcha on social media
Ento posted this antics
Surekha Vani comments on the daughter
Tollywood actress
There is nothing special to say to the Telugu audience about Surekha Vani. She got a good recognition with the roles she did. He earned a good name not only as a comedian but also in emotional roles. However, more people fell for Surekha Vani through social media than as an actress. Now she is a social media star. The mischief she does with her daughter Suprita goes viral. Surekha Vani's recent comment on her daughter's antics impresses everyone.

Surekha Vani's dances with her daughter Supritha are mostly viral. That's not all the fuss these mother-daughters made during the days when tic-tac-toe airs. Variety Variety getaways, bustling with steps. And the beauty pageant on social media is on another level. Surekha Vani is accustomed to posing in modern attire.
Bunny planning is not normal .. Five projects in a row .. Who are the directors?
Surekha Vani There is always a discussion going on about a second marriage. Meanwhile, Surekha Vani was outraged by the rumors of a second marriage. Surekha Vani was incensed at those who made false propaganda. Surekha Vani and Supritha's antics go viral on social media. In the meanwhile their pet dog was severely trolled as they celebrated their birthday grandly.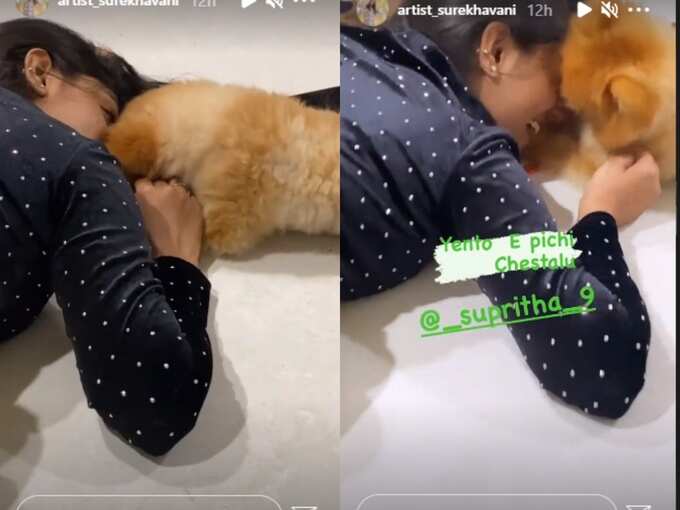 Surekha Vani countered that Suprita was playing with his pet recently. Commenting on Suprita lying on the floor and playing kisses with Pete. Surekha Vani satire on her daughter's mischief saying that Ento is doing these crazy things.
.