In a strong sign of her country's political support, US First Lady Jill Biden has arrived in Ukraine on an unannounced visit.
Jill Biden kicked off the visit Sunday with a Mother's Day meeting with Ukrainian First Lady Olena Zelensky.
The visit is the latest in a series of high-level visits by US political and military leaders, including House Speaker Nancy Pelosi, Secretary of State Anthony Blinken, and Defense Secretary Lloyd Austin.
Closed session for an hour
Biden traveled by road from Slovakia to Uzhhorod, a village on the border with Ukraine.
In addition, US media reported that Biden met Zelenska at a school that had been converted into a shelter for displaced Ukrainians.
Jill Biden meets with her Ukrainian counterpart (AP)
Zelenska got out of a black SUV guarded by a Ukrainian soldier, while Biden handed her flowers and hugged her, then they met in a small side room behind closed doors for more than an hour.
Tour in Romania and Slovakia
On Saturday, the wife of the US President met with a group of Ukrainian refugee mothers and teachers in the Romanian capital Bucharest, where she praised the strength and resilience of women.
Jill Biden heard heartbreaking accounts from Ukrainian women and children who fled war in their country and found safe haven in Romania.
It is noteworthy that Jill Biden, who teaches English and writing at a community college in Virginia, is on a tour of Romania and Slovakia, where she also meets with American soldiers deployed in the two countries and with refugees.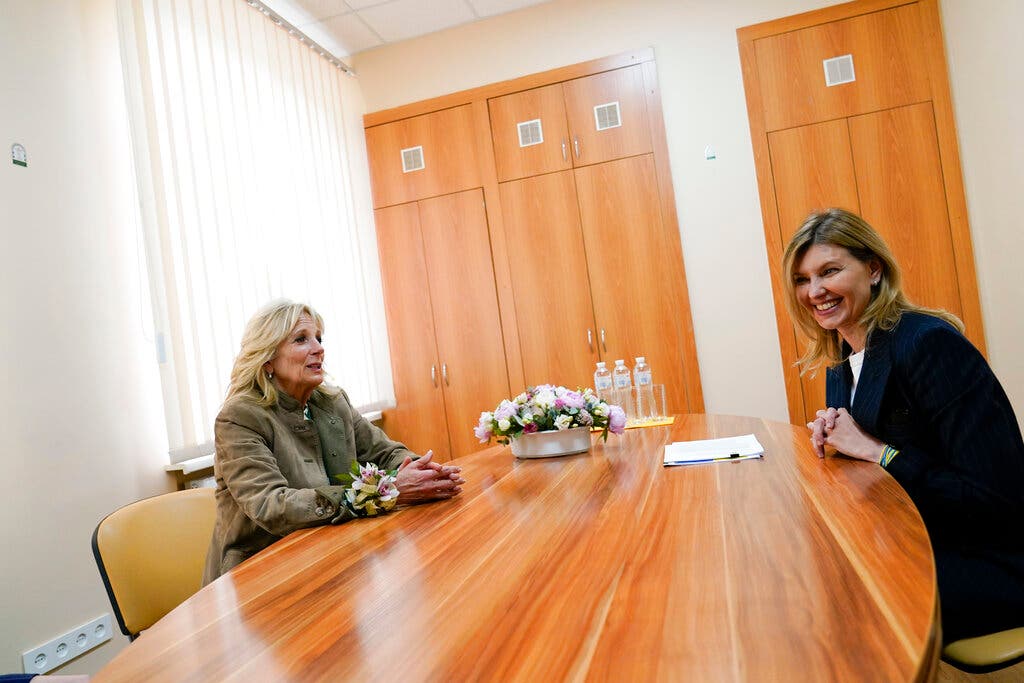 Jill Biden met the first lady of Ukraine for an hour (AP)
Since Russia began its military operation in Ukraine, nearly 910,000 Ukrainians have fled to Romania, where charities, local authorities and government agencies work alongside thousands of volunteers to provide food, shelter and transportation.