Published: 09 Jan 2022 07:32 am
Updated: 09 Jan 2022 07:32 am
Published: 09 Jan 2022 07:32 AM
Last Updated: 09 Jan 2022 07:32 AM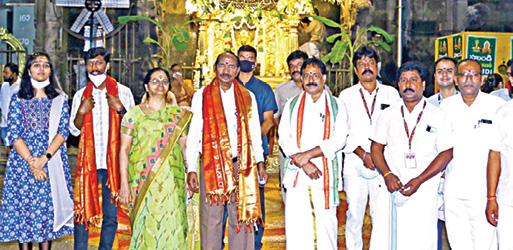 Srikahasti: ISRO chief K Sivan visited Kalahasti in Andhra Pradesh yesterday Swami Darshan Did.
Srikalahasti Shiva Temple is one of the aerial sites in the Panchaputra Corrections. Here ISRO chief K Sivan with his family yesterday Swami Darshan Did. After worshiping Rahu-Ketu in this temple, Lord Shiva was worshiped.
He later told reporters, "I pray to Swami that all the spacecraft and efforts launched by ISRO will be successful. ISRO is working to successfully launch the Chandrayaan-3 spacecraft. " Devasthanam officials presented a portrait of the Swami and offerings to the ISRO leader near the Guru Datsinamoorthy shrine in the temple.
.