TEKNOFEST Aviation, Space and Technology Festival, the first of which was held in 2018; By hosting many activities such as technology competitions, air shows, concerts, talks and events on various topics, it is aimed to increase the interest in technology in society and to raise awareness about Turkey's transformation into a society that produces and develops technology. Technology competitions in various disciplines and categories are organized within the scope of TEKNOFEST for hundreds of thousands of young people to realize their dreams.
THE LIMITS OF TECHNOLOGY WILL BE PUSHED
These competitions offer participants the opportunity to engage and apply technology closely. At the end of the competitions, prizes will be given and the achievements of the participants will be rewarded. Many different competitions such as drone races, robot competitions, artificial intelligence competitions, unmanned aerial vehicles competitions will be held. In addition to TEKNOFEST, many events such as technology fair, conferences, workshops, seminars and panels will take place. These events allow participants to closely follow the latest innovations in the world of technology and learn about new technologies. In addition, thanks to the panels and conferences at the events, it is possible to exchange ideas about the future of technology, meet experts in the sector and create new business opportunities.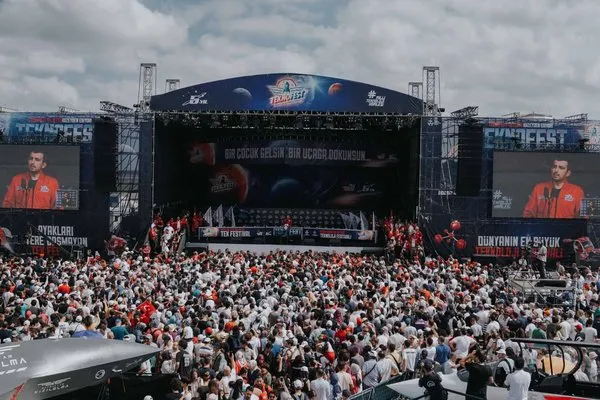 APPLICATIONS OPEN
Applications are open for the Technology Competitions of TEKNOFEST 2023, which will be held in Istanbul on the 100th anniversary of our Republic. Aiming to increase Turkey's human resources trained in the fields of science and engineering by raising awareness of technology and science throughout the society, TEKNOFEST will host 41 different technology competitions with the biggest awards in Turkish history this year, all built on the technologies of the future.
FREE FOR EVERYONE
Everyone, regardless of age or occupational group, will be able to attend the Teknofest Aviation and Space Festival free of charge as a visitor. Visitors under the age of 13 will be able to enter the event area with their parents or teachers.