These last few years have been a succession of achievements for the working class, in the opinion of the unions. The ERTE during the pandemic, a labor reform that is cutting temporary employment, the new pension standard —which improves the amount of the most vulnerable—, the new system of contributions for the self-employed —which raises those of those who enter the most—, the law rider… But, all in all, the workers' representatives insist that there is still much room for improvement.
In the great annual protest day of the unions, May Day, EL PAÍS has asked the protesters of the Madrid march what should be the priorities, the most urgent. Many refer to the stagnation of wages and the consequent loss of purchasing power, but there are also those who call for more measures to promote work-life balance.
Sara Puye, telephone operator: "We need more help for those who want to have children"
Sara Puye has co-workers who make up to three jobs compatible. "I am a telemarketer. The salary is so low that it costs a lot to make ends meet", explains Puye, 37 years old. For eight hours a day of work, her company pays about 980 euros net. "We do not ask that the company give away the money, but if a person works eight hours, what less than that will help them live. I'm not telling you to save or buy a house, but to give it so you don't run out of money on the 2nd ″, she explains, while her daughter claims her attention. "They have to improve wages, and also take more measures to improve equality, look at conciliation. Many people want to have children but don't because it's impossible," she protests. She applauds recent measures such as the extension of paternity leave or the family law —which includes new parenting permits—, but "we have to go further to be able to develop that part of life." She assures that if she did not have a partner, with another salary, her life "would be very difficult."
Alfredo Carrillo, nurse: "You have to improve the minimum wage"
Alfredo Carrillo, a nurse at the Madrid emergency medical service, is worried about the future of his daughters. "The most important thing that we workers have to demand is that the salaries give to live. It's the most important thing of all, and I think it's not guaranteed in many cases. My daughters are examples", explains Carrillo, angry at the low salaries they receive. "One of them earns the minimum wage and the other does not even earn that. It is completely impossible for them to leave home, with how the floors are. She has raised the minimum wage, but it is not enough, "he adds. The lowest possible minimum salary (1,080 euros gross in 14 payments) has grown by 47% since the legislature began. "Enough" in Carrillo's opinion, but not "enough" to "offset the price of the house." "She has to improve more," he adds. At 53, he believes that when he was young there were also low salaries, "but you had the guarantee that if you trained you would improve; Now it doesn't matter if you have higher education. That breaks your expectations for the future ".
Ana Granados, internship student: "All kinds of internships have to be put into work"
The unions point to extracurricular practices – voluntary work that is not linked to training – as the main focus of abuses by companies against university workers. Ana Granados, a 23-year-old student, is blunt regarding this formula: "It is a succulent mechanism to reduce the cost of youth labor. Beyond partial improvements, what is important is to achieve the employment of all kinds of practices. That is the only guarantee that young people are not used as a way to cut costs". The Government negotiates with employers and unions a regulation that restricts these extracurricular practices, among other measures. After many meetings, the Executive is unable to reach an agreement, which it will try to certify on Monday, May 8 in a new meeting (after indicating that the previous one would be the last).
This specialist in occupational risk prevention points to other threats on the horizon for the working class: "We have many problems, most of them linked to making labor relations more flexible in a context of crisis." She talks about false freelancers employed by companies like Glovo, among other new models. "We have to reverse certain trends. The labor reform has wanted to touch some of these elements, but there are still things to improve, such as discontinuous fixed or scams with trial periods. The trap will always be there as long as certain tools are allowed.
Martín Sagrera, retired: "Workers must recover what they lost due to inflation"
Martín Sagrera is a familiar face for anyone who is used to demonstrating in Madrid. This 87-year-old sociologist attends all kinds of marches with dozens of banners, which he makes in his house and distributes to the protesters. This Monday, he delivered proclamations against employers who offer precarious working conditions. "The first and most important thing is that we don't lose what we already have," he claims, while offering signs to passers-by. Among what we have lost, he says, is a good part of our purchasing power. "We have to recover what we have lost due to inflation. More adequate salaries are needed ", he concludes. Wages only grew 3% in 2022, so more than five percentage points of purchasing power were left behind (inflation was 8.4%). The OECD calculates that salaries in Spain lost 5.3% of real value last year, the ninth highest percentage among the 38 countries of this organization.
Pedro Palazón, worker in the textile industry: "We have gone backwards with teleworking"
To the question about what they have done to him lately at work that has bothered him, Pedro Palazón answers very quickly: "When they took away my teleworking". He works in a textile and footwear distributor and the activity that he develops, he explains, can be done remotely without problems. "After the pandemic they made us all go back to the office and now they only give us one day," he protests, angry because, in his opinion, "the pandemic taught us that this possibility exists and that it works." "It seems that it has been forgotten and that we have gone backwards. I think this has happened because the Spanish employers strongly defend face-to-face. They do not trust their workers and want to have them in front of them, warming up the chair. It's that simple," says this 43-year-old worker, hoping that, "since technology allows it," companies will accept a measure that "makes the relationship between personal and work life more pleasant."
Maribel Molinero and Inmaculada Corralo, retired: "The priority has to be to work fewer hours"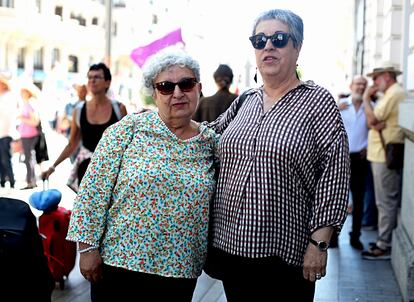 Maribel Molinero does not understand why we work 40 hours a week. "The priority has to be that the workday is shorter, fewer hours," says this 71-year-old retiree, while her friend Inmaculada Corralo, 70, nods: "We should go about 30 hours a week." Molinero believes that this measure, while maintaining wages, would help "distribute work and reduce unemployment", at 13.2% according to the latest Active Population Survey, more than double the European average. "This way you work the same total hours but with more people." The Government has just published a call for aid to companies that cut working hours without reducing wages, a trend that is making its way very timidly in Spain. "Thus, in addition, reconciliation would be facilitated, people would have more time to live, to consume… Let the wheel keep turning."
Miriam Amor, programmer: "It doesn't make sense to work eight hours a day, five days a week"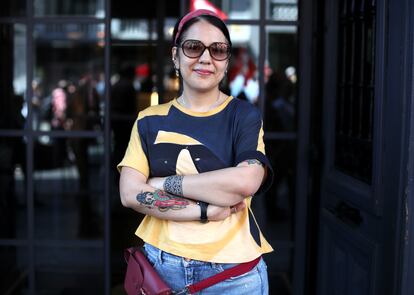 Along similar lines to that of Maribel and Inmaculada, Miriam Amor (40 years old) calls for the implementation of the four-day work week in sectors where it is possible: "Productivity does not go hand in hand with the hours worked. When working by tasks, it can be organized in another way. I think being on the job eight hours a day five days a week is too much. With the exponential improvement in technology that we have achieved, it makes no sense." She also protests the poor development of teleworking in Spain: "Outside it has been much more implemented for years and here we go backwards."
Gabin Bruna and Antoine Claval, students: "We must tax the rich more"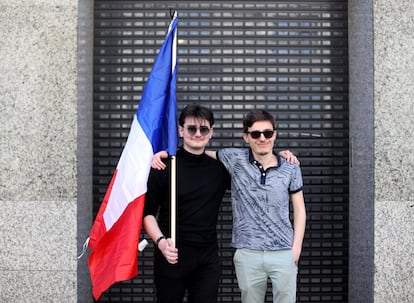 Among the dozens of flags of the CC OO, UGT, left-wing parties and workers' associations, the French ensign of Gabin Bruna stands out perfectly. This 24-year-old French student, on vacation in Madrid, participates in the demonstration along with several friends from Toulouse. He believes that the most important thing for workers, globally, is "the convergence of struggles, uniting against big business, against capital," he defends. He warns of the threat to labor rights that the ultra-right comes to power, "as is happening in France", and in particular for working women. "You have to tax the rich more," he adds. His friend Antoine Claval believes that policies should go in the opposite direction to that marked by the pension reform in France, which increases the retirement age from 62 to 64 years. "It is unfair. I'm scared where this is going. We have to fight, "he says.
.Economy and Business in Facebook and Twitteror in our weekly newsletter