Last Updated : 14 Aug, 2022 04:40 AM
Published : 14 Aug 2022 04:40 AM
Last Updated : 14 Aug 2022 04:40 AM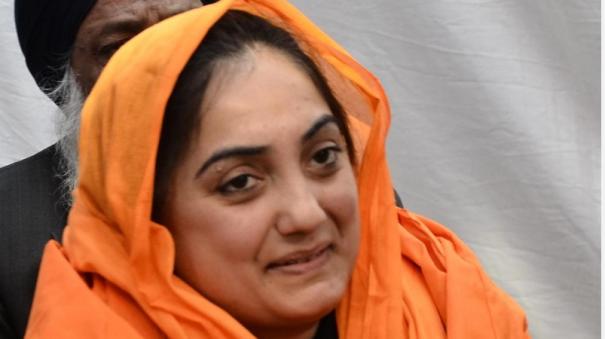 Lucknow: Police have arrested a terrorist who allegedly planned to kill former BJP spokesperson Nubur Sharma.
BJP spokesperson Nubur Sharma had made controversial comments about Prophet Mohammad during a televised debate 2 months ago. After this issue, there was a huge controversy all over the country. Many Muslim countries also opposed this. Following this, Nubur Sharma was suspended from the BJP. In this case, he was prosecuted in various cities across the country.
Subsequently, Nubur Sharma filed a case in the Supreme Court demanding that the cases registered against him in different parts of the country should be tried at one place. The Supreme Court reprimanded Nubur Sharma for that and recently ordered to transfer all the cases to the Delhi Police.
In this case, the police arrested a terrorist in Uttar Pradesh yesterday for planning to kill Nubur Sharma.
Jaish-e-Mohammed..
The Counter-Terrorism Squad police received information that 25-year-old Mohammad Nadeem, a resident of Kundakala village near Shahranpur in UP, has direct links with the Jaish-e-Mohammed terrorist organization and the Pakistan-based Taliban.
On this the police was monitoring the phone conversation of Mohammad Nadeem. It was then revealed that Mohammad Nadeem had links with Jaish-e-Mohammed and was given the target of killing Nubur Sharma, who had been suspended from the BJP.
He was also ready to go to Pakistan for weapons training, the Anti-Terrorist Police said. Subsequently, the police seized Mohammad Nadeem's cell phone and other items. The police also said that Mohammad Nadeem had received training from the terrorists on how to create virtual phone numbers called virtual.
Also, the police said that a person named Saibullah from Pakistan had trained him on how to attack government buildings and police, and the terrorist movements there had ordered Mohammad Nadeem to come to Pakistan for special training.