Published: 21 Nov 2021 03:06 am
Updated: 21 Nov 2021 06:08 am
Published: 21 Nov 2021 03:06 AM
Last Updated: 21 Nov 2021 06:08 AM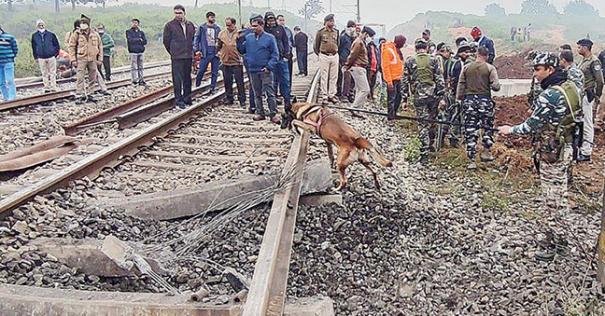 Ranchi
In Jharkhand Maoists On that route because of the bombing of the railroad Rail transport Has been affected. The trains then run on alternate routes.
State of Jharkhand Ledher The bomber struck shortly after noon in front of a train station between Richiguda and Temu railway stations in the district. Upon learning of this, the railway authorities ordered to stop the train traffic on that route. Thus, between Bargacana – Rarva Rail transport Has been affected.
Bridge Freight DIG Rajkumar Lakra said, "All the police stations in the Dhanbad zone of the Middle East Railway have been informed following the bomb blast on the tracks. As a result, all trains on that route have been diverted. Railway employees are involved in repairing the damaged track. We suspect that the Maoists may have been involved in this attack. An investigation is underway. "
Railway Department spokesperson BK Mishra said, "A diesel engine trolley was damaged in the blast. Special teams from Barkagana and Parvati railway stations rushed to the spot and repaired the damaged track. Due to this, various trains have been diverted. The Theri-Anson-Parvati and Parvati-Nesubokomo special trains have been canceled. "
Prashant Bose (A) Kishan Tha, a key leader of the banned Maoist organization, was shot in the head by a fugitive. Jharkhand Police had announced a reward of Rs 1 crore.
He was recently arrested in this connection. Condemning this, the Maoists called for a complete blockade on the 20th (yesterday). It is in this context that the incident took place. – PTI
.