An auspicious event was held at Ali's house on Sunday. His eldest daughter Fatima's marriage to Shahyaz was grand. In this grand wedding ceremony held on Sunday evening at Anwaya Convention in Hyderabad, celebrities from the film, political and business fields attended and blessed the newlyweds.

See Photos:Ali's daughter's wedding ceremony was grand.. Athiratha Maharathus attended

Megastar Chiranjeevi- Surekha Couple, Nagarjuna-Amala Couple, Victory Venkatesh, SV Krishna Reddy, Achireddy, K. Raghavendra Rao, Murali Mohan, Brahmanandam, Jayasudha, Anil Ravipudi, Boyapati Srinu, Rajampakhar- Jeevita Dashetulu, Producers Allu Aravind, K. Yal from Film Industry. .Narayana, S Gopal Reddy, cinematographer Chota K Naidu, Tanikella Bharani, Manchu Vishnu, Lakshmi, Thottempudi Venu, Aadi Saikumar, Raja Gautham, Uha, Roshan, Allari Naresh, Rajesh, Priyadarshi, Purijagannath's wife Lavanya, Akash Puri, Pavitra Puri and Fatima etc. Participated in the wedding ceremony.

From the political field, Chief Adviser of Andhra Pradesh State Sajjala Ramakrishna Reddy, Minister Roja, MLA Avanti Srinivas, MP Margani Bharat, Prathipati Pullarao, Telangana Cinematography Minister Thalasani Srinivasa Yadav and many other political leaders participated. Also, famous badminton player PV Sindhu attended the wedding along with her parents.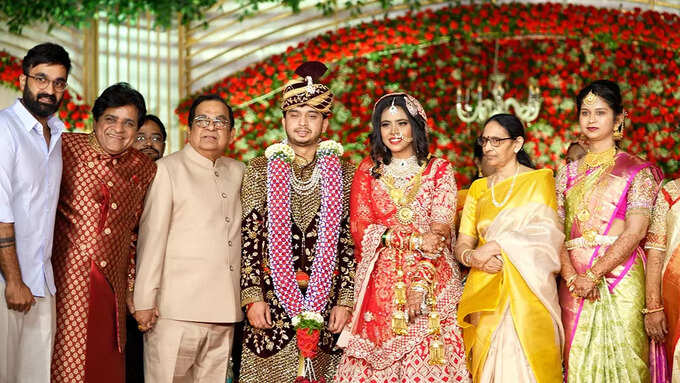 Ali thanked everyone who attended the wedding ceremony and blessed her daughter and son-in-law wholeheartedly. A statement was released to the media to this effect. Ali stated that his daughter's marriage was done according to Muslim tradition.. About 200 people who worked with him in the film industry along with movie stars came to bless the newlyweds.. He thanked all of them. Also, he expressed his gratitude to all the Athiratha Maharadhus who accepted his hospitality and blessed the new couple.
Read more Cinema News and Telugu News