On Tuesday evening, the General Presidency for the Affairs of the Grand Mosque and the Prophet's Mosque changed the Kaaba's covering, as was the annual custom, through a specific work team from the King Abdulaziz Complex for the Holy Kaaba's covering.
Engineer Sultan bin Ati Al-Qurashi, Assistant to the President-General for the Affairs of the King Abdulaziz Complex for the Holy Kaaba Covering Industry and Engineering, Technical and Operational Affairs, said, "The new cover, consisting of four separated sides, and the door curtain, were installed, as each side of the four sides of the Kaaba was raised by itself to the top of the Holy Kaaba in preparation for its individualization." On the old side, fixing the side from above by tying it and dropping the other end of the side, after the ropes of the old side were loosened, by moving the new side up and down in a permanent movement, after which the old side fell from the bottom and the new side remained, and the process was repeated four times for each side until The dress was completed, and then the belt was weighed on a straight line on the four sides to sew it.
Replacement of the Kaaba Kiswa
Al-Qurashi continued: "This process started first from the Al-Hatim side, due to the presence of the gutter, which has its own hole at the top of the garment, and after all sides were fixed, the corners were fixed by sewing them from the top of the garment to the bottom, and after completing that, the curtain was placed and an opening estimated in the area of ​​the curtain was made in the fabric. The black cloth, which is estimated at about 3.30 meters in width until the end of the dress, and then three holes were made in the black cloth to install the curtain from under the cloth, and finally the ends were fixed by sewing them into the black cloth on the dress.
And Al-Qurashi stated that the kiswa is covered from the outside with patterns woven with black threads (in the jacquard way) on which are written the words (Oh God, O God), (There is no god but God, Muhammad is the Messenger of God), (Glory be to God and His praise), (Glory be to God the Great) and (Oh Judge). Ya Manan) and these phrases are repeated on all the pieces of cloth. He added that the number of pieces of the Kaaba covering belt is 16 pieces, in addition to six pieces and 12 lamps below the belt, four lamps placed in the corners of the Kaaba, and five lamps (God is great) above the Black Stone, in addition to the outer curtain of the door of the Kaaba.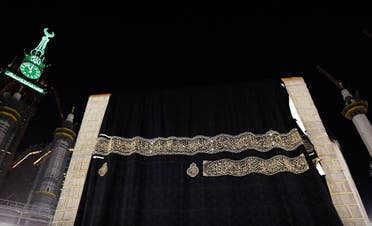 cladding replacement