Last Updated: 12 May, 2022 07:19 AM
Published: 12 May 2022 07:19 AM
Last Updated: 12 May 2022 07:19 AM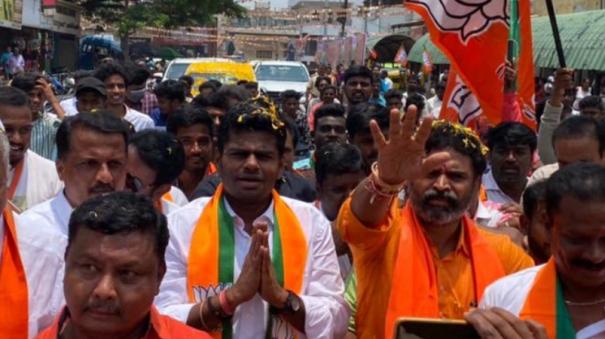 Bangalore: Tamil Nadu BJP leader Annamalai was a prominent IPS officer in Karnataka before entering politics. Called the 'Lion' by the Kannada people for his action. Knowing that he is being severely criticized in Tamil Nadu politics, many of his well-wishers have been saying on social media that 'Annamalai should come to Karnataka politics'.
The BJP has decided to win the votes of Karnataka Tamils ​​through Annamalai in the run-up to next year's assembly elections in Karnataka.
The BJP also plans to use him for the election campaign. It is said that the beginning of this was when Annamalai was fielded in the Kolar gold field last Sunday.
The BJP won the last 2008 and 2013 elections in the Kolar Goldfields Assembly constituency. With the BJP losing the last 2018 elections, the Congress has won back there 50 years later. The Kolar BJP MP said that the lost constituency should be recaptured. Munusamy plans.
Annamalai was summoned to attract the Tamils ​​who are the majority voters there. Babasaheb Ambedkar paid homage to the statue by wearing a garland straight after setting foot in Annamalai town to attract the voters of the separate Kolar Goldfields. He then enthusiastically participated in the temple consecration, public meeting and motorcycle rally.
Thangavayal was very close to the Tamils ​​and Annamalai excelled in Tamil and Kannada. Listing the long-standing problems of the people, Annamalai said, "Steps will be taken to reopen the closed gold mine. Necessary assistance will be provided to workers affected by the closure of the mine. Basic infrastructure will be carried out in the gold field, "he stressed.
The BJP is excited that Annamalai's speech has been well received by the Kolar Goldfields Tamils. Next, it seems that there are plans to field him in Bangalore, Shimoga and Bhadravati, where Tamils ​​live in large numbers.
.