Bengaluru: It has been raining continuously since last March in Bengaluru. The roads were flooded due to heavy rains during the night for the past two weeks.
The heavy downpour that lasted from last Sunday night to last night has settled. 131.6 mm of rain was recorded on Monday night. According to the Meteorological Department, more than 130 mm of rain has been recorded since 1947.
Bengaluru is flooded due to unprecedented rains. More than 80 areas including Electronic City, White Field, Marathahalli, Pommanahalli, Mahadevapura, Sarjapur are floating in flood. Thousands of houses there were flooded and people left their homes. Household appliances including bed, TV, refrigerator were submerged and destroyed. More than 10,000 vehicles have been destroyed by floods.
The National Disaster Response Force and the Karnataka Disaster Response Team are rescuing thousands of people trapped in the floods using rubber boats. Akila (23), an employee of a private company, who was returning home from work last Monday night, fell on an electric pole due to flooding and died on the spot.
Flats and roads are flooded everywhere. Due to this, videos of employees going to the office by bus, JCP, tractor went viral. Mahindra Chairman Anand Mahindra shared this on his social media page.
Due to floods, private schools and colleges declared holiday yesterday. Similarly, multinational companies located on the Outer Ring Road have also declared a holiday. Due to heavy rain, electricity has been cut off in many places due to fallen trees and electric poles. Water supply has also been blocked in places like Electronic City, White Field due to flooding on the roads. After visiting the flood-affected areas yesterday, Karnataka Chief Minister Basavaraj Pomi said:
All the lakes, ponds and canals are overflowing due to heavy rain in Bengaluru. The current floods are due to the mismanagement of the previous Congress government. The government's disaster recovery committee and municipal officials are working round the clock to deal with the flood. In another 2 days the stagnant water will be completely drained.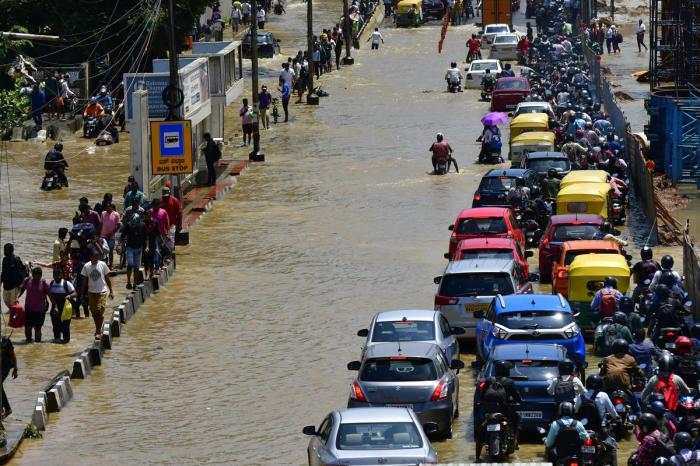 People need cooperation
So people should cooperate with the government. 300 crores have been released as flood relief fund. Rubber boats will be purchased at a cost of Rs 10 crore for the use of Bengaluru. He said thus.
The Meteorological Department has warned that Bengaluru will receive heavy rain till the 10th. A 'yellow alert' has been issued for Bengaluru for the next 3 days. People are scared because of this.