The traveler, preacher and writer Muhammad bin Nasser Al-Aboudi died today, Friday, and prayers will be held on his body tomorrow, Saturday.
The family of the deceased announced that he will be prayed for after noon prayers tomorrow at Al-Jawhara Al-Babtain Mosque in Riyadh.
The pioneers of social networking sites launched a name in the name of the late Sheikh, and many public figures took the initiative to mourn him, asking God for mercy and forgiveness, and for his family patience and solace.
Al-Arabiya.net had an interview with the traveler Al-Aboudi, and it was his last interview before his illness. The literary traveler Sheikh Muhammad Al-Aboudi was awarded the Cultural Personality of the Year, which is the grand prize through which the Ministry honors the country's cultural pioneers, as his cultural giving spanned for 70 years. However, his advanced age prevented him from attending to receive the award, so his son attended on his behalf.
Khaled Muhammad Al-Aboudi, the son of the most famous traveler in Saudi Arabia and the Arab world, spoke to Al-Arabiya.net, where he said, "This award means a lot to him, although he received many awards in the past and was honored on several occasions, but this award has a special impact on him. It comes within the framework of a national celebration and by a young ministry that has taken upon itself to support culture and encourage intellectuals. There is no doubt that everyone who won a branch of the award feels gratitude and pride, let alone those who won the award for the cultural personality of the year at the level of the Kingdom."
The beginning of the slave journey
Early and before the existence of means of communication and the Internet to help many travelers at the present time, Sheikh Muhammad Al-Aboudi began his shuttle trips around the globe. His son Khaled says that Africa was his first destination in 1965 AD, as the trip took three months and 17 days, and the trip continued after that, touring all countries of the world except for two countries, including North Korea.
Traveler, preacher and writer Muhammad bin Nasser Al-Aboudi
first book
Sheikh Al-Aboudi was keen to constantly record his travels, record his notes on any country he goes to, to generate his first book on Africa called "Green Africa".
Al-Aboudi was distinguished by a unique style in telling stories and tales about the countries he visits, which attracted readers to his books. His son Khaled Al-Aboudi says: "My father worked on documenting these trips in books that were printed successively in the form of diaries in which he records what he saw or watched and feeds them with additional information, trying to link the past of those countries with their Islamic history by highlighting the names of their places that were known in the Islamic heritage."
He added: "These books constituted an indispensable field of introduction to the Arab library, which lacked books of extended and expansive travels that covered many places and remote lands. These books, in addition to having influenced the Arab library, also taught the Arab reader a lot about these countries and stimulated interested young travelers to Mimic his travel and blogging style and make use of his multiple ways to highlight what he believes is important in the countries he visits.
He comments on the uniqueness of style and the narration of novels in his father's books: "What distinguishes his literary production is the comparisons he makes between what he sees in a particular country and what he has seen in another country or in another region of the world, whether it is related to the system followed or the position of an official who met him or dealt with him." He is with him as the passport officers who are fortunate or unfortunate to deal with them when he passes through land or air ports where they work."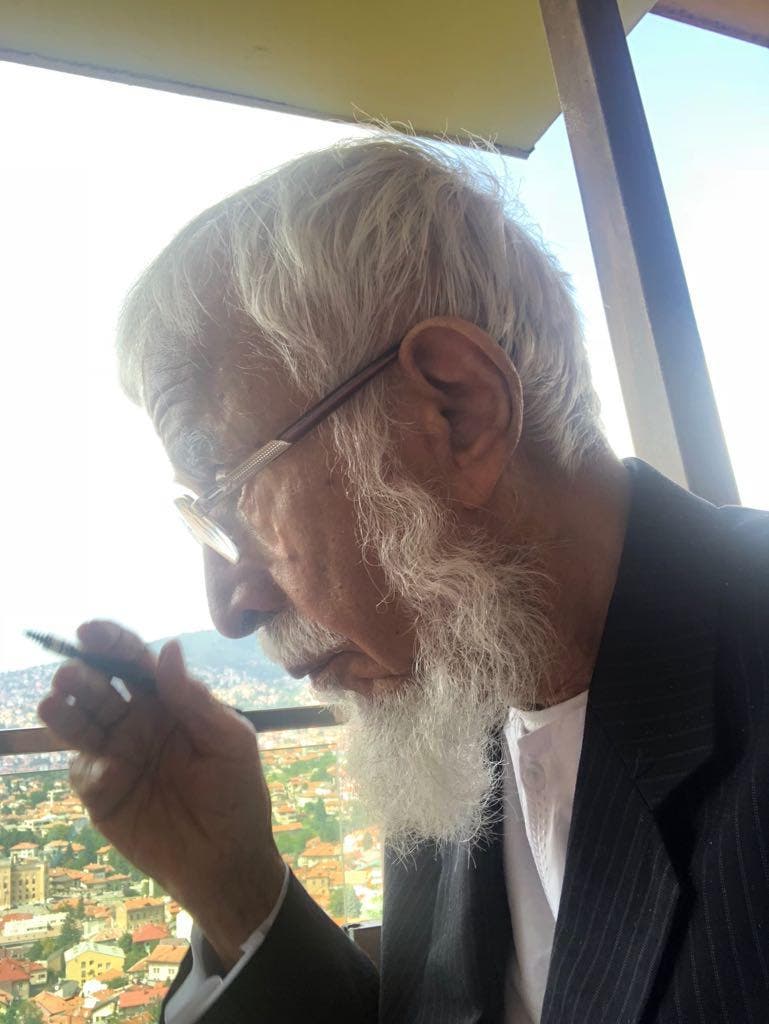 Traveler, preacher and writer Muhammad bin Nasser Al-Aboudi
Exporting the nomadic culture of youth
Over the past years, it has been noted that many young people have tended to travel and blog. Whether it is audio or written, or even in a new way by publishing those interested in traveling their stories and positions on their social media accounts. Most of them see Sheikh Muhammad Al-Aboudi as the legend of this field in Saudi Arabia, so they are keen to go to him and draw from his experience and knowledge that has accumulated over decades.
Khaled Al-Aboudi attended some of these sessions between the young traveler and his father, and he says: "His father elaborates on his method of documentation, which is based on a strict system that he chose, represented in his keenness, during his multiple visits, to record the names of famous people, streets, or sites such as mosques, associations, cultural institutions and others in a small notebook During his wanderings, but in the evening, when he returns to his hostel, he writes down the events of that day with the help of his diary.
He continues: "Therefore, he does not return to the homeland until the draft of the book of the trip has become complete, so it remains only to review it and add complementary information that will enrich it, such as the historical backgrounds of those countries. in the mind of the recipient who was not able to visit those countries."
stuck positions
Decades ago, the writer Muhammad Al-Aboudi wrote his way to dozens of countries he visited. There must have been unforgettable situations in his memory, but the Brazilian people's dealings with him remained stuck in his memory, as his son says, "He often remembers the kindness of peoples and their upscale dealings with foreigners, especially the Brazilian people, who praise the personal satisfaction and desire to continue roaming without reservation or A trouble other than the trouble of travel itself, about which one rarely complains.
He also experienced what Muslims suffered during the last century in communist countries, in which he came. "I was very impressed by the adherence of Muslims who lived in countries where communism had perched for decades and how they were able to preserve Islamic traditions despite the restrictions on them, whether in the countries of the former Soviet Union, in China or in the Balkans. .