Apple stopped working on its Lightning charger https://www.alarabiya.net/"Lightning" a few days ago, 11 years after it started working.
This represented a turning point for the company, as it transitioned to adopting the universal USB-C charging system.
The company announced during its annual conference last Tuesday that all of its good generation smartphones will need a USB-C charger, as well as the latest version of the AirPods Pro. Although the company had previously converted its iPads and MacBooks to a USB-C charger, it has remained resistant to making the change to the iPhone until now.
iPhone 15 phone from Apple (Reuters)
What is the nature of change?
Apple's decision came less than a year after the European Union voted to approve legislation requiring smartphones, tablets, digital cameras, portable speakers and other small devices to use a USB-C charger by 2024, according to what was reported by the CNN network. "Inn"
The law aims to reduce the number of chargers and cables consumers have to deal with when purchasing a new device, and allow users to mix and match devices and chargers even if they are produced by different manufacturers.
Thus, Apple customers can now use a USB-C charger to power their iPhones, iPads, and Mac computers. They can also charge a device from another brand using the new charger.
Last year, Apple's Senior Vice President of Global Marketing, Greg Goswiak, pointed out the value and spread of the Lightning charger, which is designed to charge devices faster, but explained that "we will have to comply with the European Union's decision." The EU decision is part of a larger effort to tackle e-waste generally, but it may generate more waste in the short term as Lightning cables are phased out. Although Apple has expressed environmental concerns about what might happen to older Lightning chargers, it has financial reasons to resist the change as well.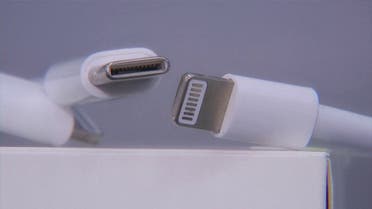 Apple complies with European Union rules regarding a unified charger for all phones
What does the change mean for iPhone users?
The move to a USB-C charger is unlikely to be an incentive for people to buy a new device, but it may affect some consumers who have declined to buy an iPhone due to charging restrictions, according to Thomas Howson, vice president of Forrester Research.
Given that many mobile devices already use a USB-C charger, including Apple's iPads and Mac computers, access to charging cords shouldn't be too difficult or expensive, but the products Counterfeits abound, and some USB-C chargers are safer than others.
While Apple also explained that the dedicated USB-C controller will allow transfer speeds up to 20 times faster than USB-2 technology for the iPhone 15 Pro.