Last Updated: 04 May, 2022 06:46 AM
Published: 04 May 2022 06:46 AM
Last Updated: 04 May 2022 06:46 AM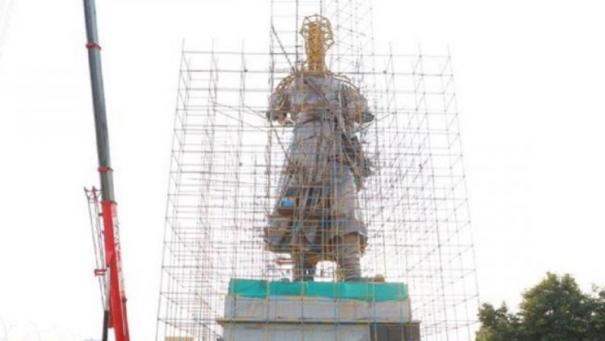 Bangalore: Kempe Gowda, the creator of Bangalore, is to erect a huge statue at a height of 108 feet at a cost of Rs 85 crore.
Bangalore was founded in 1531 AD by Kembe Gowda, a short-lived king who ruled Elahanga next to present day Bangalore. A statue of Kempe Gowda has been erected in 191 wards of Bangalore in his memory. Bangalore International Airport is also named after him.
In this context, the Government of Karnataka has decided in 2021 to erect a 108-foot-tall statue of Kempe Gowda on 23 acres near the airport at a cost of Rs 85 crore. Sculptor Ram Vanji Suther, who created the 597-foot Sardar Vallabhbhai Patel statue in Gujarat, is in the process of sculpting the statue. With 80 per cent of the work now completed, the sword-making work of Kempe Gowda took place in Delhi.
4 thousand kg sword
Upon completion of its missions, a sword weighing 4,000 kg was brought from Delhi to Bangalore. The 35-foot-tall sword was welcomed by Karnataka Higher Education Minister and Chairman of the Kembe Gowda Development Authority, Aswath Narayan, in a traditional manner.
Ashwat Narayan said, "The 23-acre park where the Kempe Gowda statue will be installed is ready. The statue is a tribute to innovation and tradition. "
.