Aiming to be the first in the world to possess the most advanced form of artificial intelligence while also maintaining control over more than a billion people, an elite government-supervised group of Chinese scientists have pondered a source of inspiration that is both ancient and modern: the human brain.
In one of thousands of efforts underway, Chinese scientists have begun building a "city brain" to augment the computers at the heart of "smart cities" that already scan the country from the wide boulevards of Beijing to the streets of small cities, collecting and processing billions of pieces of information, from complex networks of sensors and cameras. And other devices that monitor traffic, human faces, voices, etc.
"Mind of the City"
Its developers say the new "brain", equipped with monitoring and visual processing capabilities modeled on human vision, will be more efficient, less energy-intensive, and will improve management.
"We call it retina computing," Gao Wen, a leading AI researcher, said in an article titled "The City Brain: Challenges and Solutions."
Artificial Intelligence Expression – iStock
The work done by Gao and his cutting-edge laboratory, Ping Qing, in the southern city of Shenzhen, he said, represents much more than just China's drive to expand its more pervasive surveillance of its citizens: it is also an indication of China's determination to win the race for what is known as artificial general intelligence.
This is artificial intelligence that can not only outperform people at a large number of tasks and give those who control it a huge strategic advantage, but it has also sparked warnings from experts in the West about a potential threat to the functional existence of humanity.
Gao's paper is just one of about 1,000 papers seen by Newsweek that show China is moving forward in the race toward artificial general intelligence, which represents a step change beyond the big language models like Chat GPT or Bard that are already sweeping societies with their ability to create… Text, images and find huge amounts of information quickly.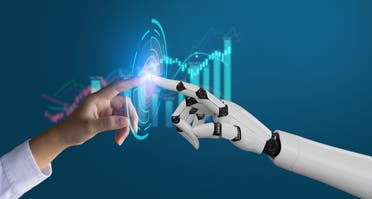 Artificial Intelligence – iStock
"Information atomic bomb"
"Artificial general intelligence is the 'atomic bomb' in the field of information, and the winner of the game will be one of the competitors, either China or the United States," a prominent Chinese scientist in the field of artificial intelligence, Zhou Songchun, said in July in his hometown of Ezhou, Wuhan. According to Jingchu Net, a website affiliated with the Hubei Daily newspaper.
Just as in the 1950s and 1960s when Chinese scientists worked around the clock to build the atomic bomb, the ICBM and the satellite, Zhu added, "We need to develop AI like 'two bombs and a satellite' and form a 'professional army' for AI."
China aims to lead the world in artificial intelligence by 2030, a goal outlined in the official "China Brain Project" announced in 2016.
Artificial intelligence and brain sciences are also two of six frontier areas named in the country's 15-year national plan, which began in 2021 and will end by 2035.