Last Updated: 24 May, 2022 04:37 AM
Published: 24 May 2022 04:37 AM
Last Updated: 24 May 2022 04:37 AM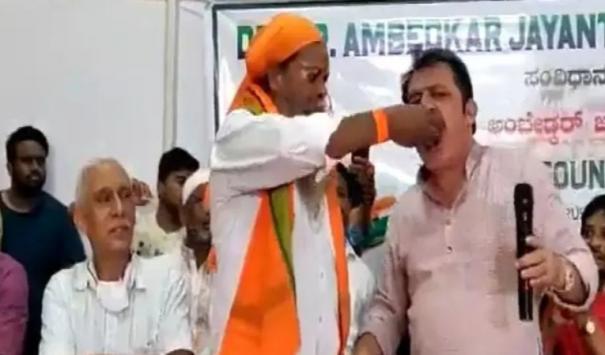 Bangalore: Baba Saheb Ambedkar Jayanti and Eid Milan event on behalf of Congress at Samrajpet in Bangalore was held the day before yesterday. Samrajpet Congress MLA Jameer Ahmed and list abbot Narayana Swamy were the guests.
During the event, Congress MLA Jameer Ahmed took sweets and fed them to the abbot of the list. In response the abbot took the dessert which had been placed below and tried to feed it to Jameer Ahmed. MLA Jameer Ahmed, who then stopped the preacher, told him to take the saliva from the abbot's mouth and feed it to the priest. Then the hesitant abbot rightfully held his hand and fed the salivating food.
Following this, MLA Jameer Ahmed Mike took the saliva food fed by the abbot and said, "He and I are brother. We are all human beings. We cannot be separated by this caste and religion, "he said angrily. As the video of the incident went viral on social media, Dalit organizations protested.
.