Published: 22 Feb 2021 03:17 am
Updated: 22 Feb 2021 08:51 am
Published: 22 Feb 2021 03:17 AM
Last Updated: 22 Feb 2021 08:51 AM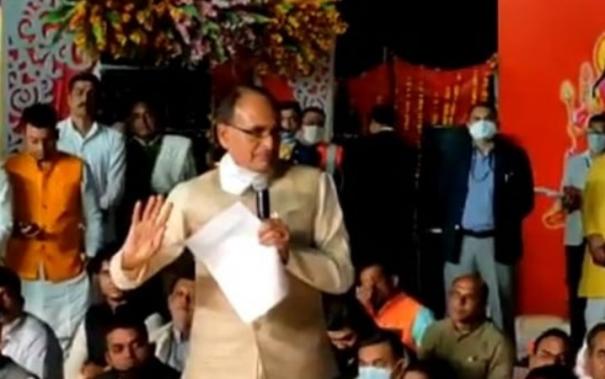 Bhopal
MP's Hoshangabad Chief Minister Shivraj Chauhan participated in the Narmada Jayanti celebrations held in the city.
Then, "Should the city of Hoshangabad be renamed?" As questioned by the people. People said, "Yes." Immediately, "What should the new name be?" As Chauhan questioned again. People called it "Narmadapuram".
Following this, Chief Minister Chauhan said, "Hoshangabad will be renamed as Narmadapuram. A recommendation will be sent to the Central Government in this regard. "
Speaking on the occasion, Chauhan said, "Sewage treatment plants will be set up in all the cities along the Narmada River. The state government will not allow the construction of concrete buildings on the banks of the Narmada River. "
Interim Speaker of the Legislative Assembly Rameshwar Sharma said the Chief Minister had issued the notice to change the name out of respect for the sentiments of the people.
BJP volunteers under his leadership exploded firecrackers to celebrate.
Commenting on the name change announcement, Congress spokesperson Bhupendra Gupta said, "Chauhan has issued this announcement to divert people's attention from issues such as rising prices and fuel prices. Instead the Chief Minister should focus on development work. We need to address the concerns of the people. "
.