The Union Home Minister has said that the BJP-led National Democratic Alliance will form a government after winning the next elections in Pondicherry Amit Shah Definitely said.
Central Interior Amit Shah He arrived in Chennai last night on a one-day visit for the election alliance and campaign. This morning Puducherry Amit Shah, who left, attended a campaign rally in Karaikal.
The BJP's Villupuram district division is holding an election campaign rally near the Villupuram Janakipuram bypass at 4 pm today. In this meeting Amit Shah Is about to speak.
At a campaign rally in Karaikal Amit Shah Spoken by:
"It simply came to our notice then. In the coming general elections, the BJP-led National Democratic Alliance government will form a government in Pondicherry.
The soil of Pondicherry is very sacred. Mahakavi Bhartiyar has been here for a long time. This is where Arvind started his spiritual journey and his future life.
After Modi became the Prime Minister, he wanted to make Puducherry a model state for the whole country. Prime Minister Modi has taken steps to implement 115 projects for the overall development of the state.
But the Congress party accuses us of overthrowing the regime in Pondicherry.
You have appointed as the Chief Minister of this state a man whose word was falsely translated by his leader before.
Sonia was the first to serve the family without serving the people. The Gandhi family has been given a share of the Rs 1,500 crore provided by the central government.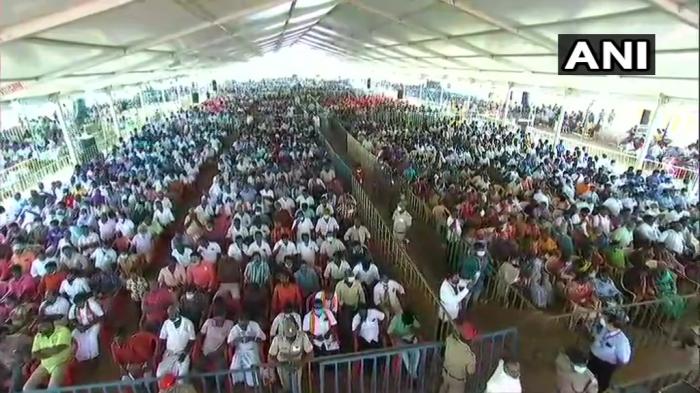 Numerous bigwigs from the Congress party are joining the BJP. The Congress party is disintegrating. It is deteriorating not only in Pondicherry but across the country. The main reason for this is the succession political system.
That the Ministry of Fisheries should have a separate ministry Rahul Gandhi Has spoken. Rahul Gandhi Even before the hearing, Prime Minister Modi had created a separate department for the fisheries sector two years ago.
Thus Amit Shah Said.
.