Ukrainian authorities have announced that many civilians have been killed in the latest Russian bombing.
Ukrainian President Volodymyr Zelensky's office said Monday that at least three people were killed and three others wounded, including a child, in the eastern Lugansk region in the past 24 hours.
The presidential office added that four people were wounded in Russian shelling in the Donetsk region in eastern Ukraine.
For its part, the regional administration in the western Zaporizhia region said that at least two people were killed and four others were wounded in a Russian bombing of the town of Orekov.
Russian armored vehicles captured by the Ukrainian army in Dnipro
Russia resumes bombing of Azovstal
In a related context, an aide to the mayor of the Ukrainian city of Mariupol said today that Russia resumed bombing steel plants in Azovstal on Sunday as soon as the buses carrying civilians left the area.
The Russians control most of Mariupol, which has seen the heaviest fighting of the war in Ukraine so far, but an unknown number of civilians and fighters remain trapped in Azovstal, whose network of bunkers and tunnels has provided shelter from weeks of Russian bombing.
"Yesterday, as soon as the buses carrying the evacuees left Azovstal, a new bombardment immediately began," assistant mayor Petro Andryushenko told Ukrainian television.
The Ukrainian president had said yesterday that about 100 civilians had been evacuated from the Azovstal plant and had been transferred to a city controlled by Ukraine.
Mariupol, on the Sea of ​​Azov, witnessed the worst devastating siege of the war with Russia, which is now in its third month.
"For the first time, we witness two days of a ceasefire in this area, and we managed to get more than 100 civilians out, including women and children," Zelensky said in a video recording on Sunday evening.
Ukraine's Deputy Prime Minister Irina Vereshchuk said hundreds of civilians were still trapped in the steel plant.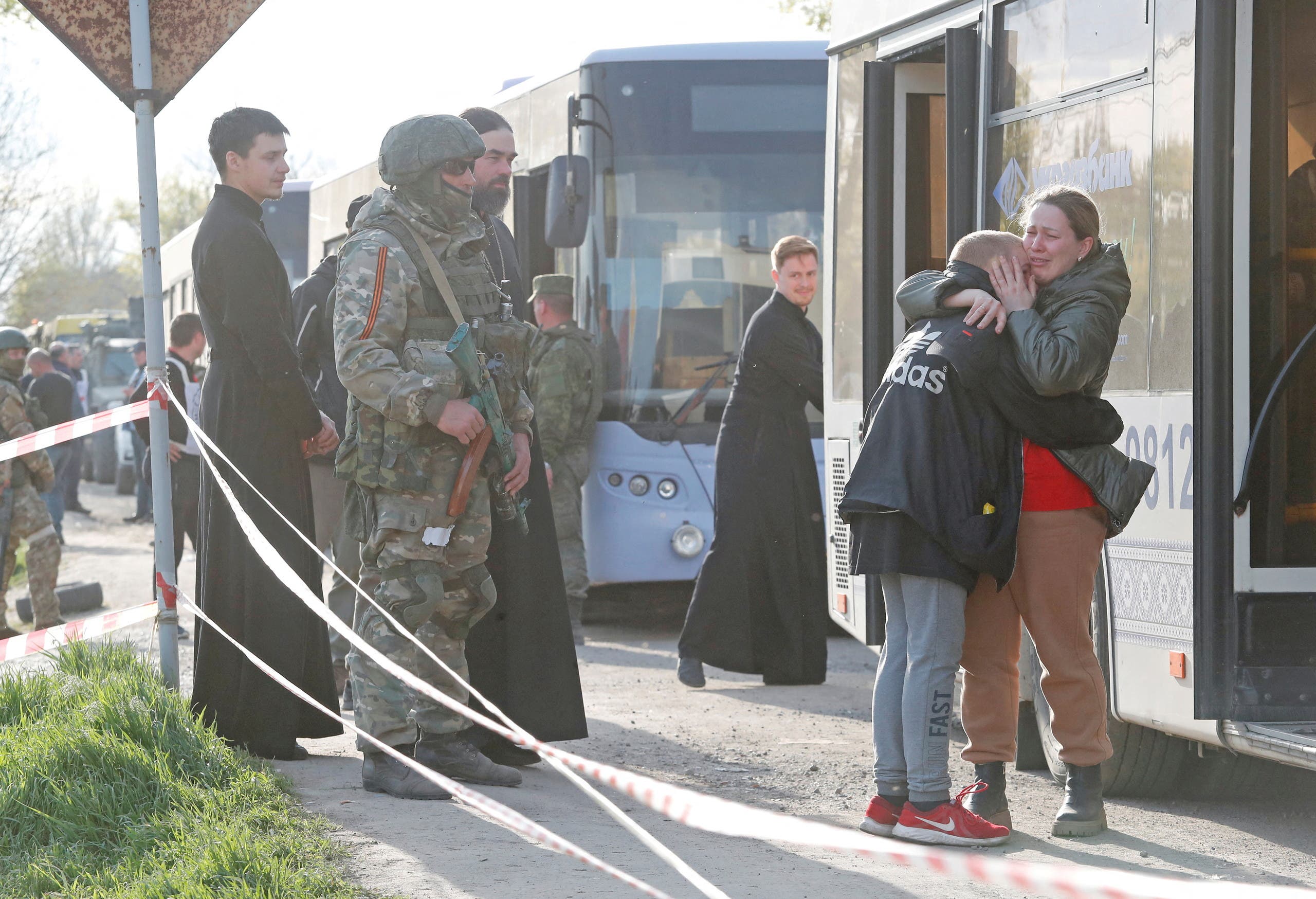 Civilians evacuated from Azovstal
The bombing is focused on the east
The Russian military shifted its focus to southern and eastern Ukraine after it relinquished control of Kyiv.
Ukraine's General Staff said on Monday that Russian forces were trying to take control of the town of Robyzhny and prepare for an attack on Severodonetsk in eastern Ukraine, while Dnipro Governor Valentin Reznichenko said a Russian missile hit a grain silo, but no casualties.
Russia is currently pressing for full control of the Donbass region, where Russian-backed separatists already controlled parts of Lugansk and Donetsk provinces before the war.