Apple has asked its employees to keep secret about radiation levels in the iPhone 12, according to a report published by Bloomberg.
Yesterday, Thursday, Belgium announced that it would analyze the health risks that may involve using the "iPhone 12", two days after France announced its intention to ban the phone because it exceeded the maximum limits of the electromagnetic waves emitted from it that are absorbed by the human body.
'They have nothing to share'
According to the report, Apple advised its technical support team not to provide any information when consumers asked about radiation risks, instructed workers to say they had "nothing to share," and were asked to confirm that phones could not be returned or exchanged after two weeks of purchase. .
Apple says that the iPhone 12, like any other device it has, has undergone safety tests.
The Minister of Digitization in the Belgian government asked the Communications Regulatory Authority to analyze the potential health risks associated with the use of the "iPhone 12".
Matthew Michel, Minister of State for Digitization, said in a statement: "My mission is to ensure the safety of all citizens," according to "Reuters."
However, there is no possibility of imposing an immediate ban on this type of phone in the entire European Union, but the Belgian move increases the possibility that more European countries will ban it.
The European Commission says it is awaiting positions from European countries regarding banning this phone before making any decision.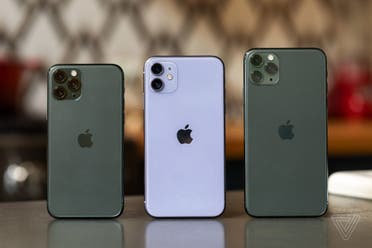 iPhone 12
France decided to ban
On Tuesday, France banned the sale of iPhone 12 phones on its territory because these devices exceeded the maximum limits of the electromagnetic waves emitted by them and absorbed by the human body, according to the National Frequency Authority.
The authority explained in a statement that it asked the company to "utilize all available means to quickly address this defect. If this is not done, Apple will have to withdraw the copies that were previously sold."
French Minister of Digital Affairs Jean-Noel Barrot said in a press interview: "I have confidence in the company's sense of responsibility, which makes it comply with our rules… My job is to implement them. If it does not do that, I am ready to order the withdrawal of iPhone 12 devices in circulation."
Apple responds
For its part, "Apple" defended its "iPhone 12" model and said in a statement that the "iPhone 12" phone had been approved by many international bodies as compatible with global radiation standards, and that it had presented many results from "Apple" laboratories and authorities. The Ministry of Foreign Affairs confirmed that the phone was in compliance with the French Agency, and that it would appeal its findings.