Last Wednesday, June 15, I was meditating on several paintings, including the face of a beautiful girl, acquired by a friend, during our visit together to the exhibition, which included a group of plastic works.
Suddenly, as our gaze wanders among the colors, a smiling person takes me in an embrace! The young man, whom I did not know, exclaimed in a voice filled with joy: Oh, Hala Hassan al-Mustafa. I contemplated his features, but the memory did not help me to distinguish his appearance, so I asked him about his name, he said: I am So and so bin So and so, and I am one of those who follow your writings and interviews constantly.
More than that, I was surprised by this lively boy that he knows a little of my history and my ideas, and that he is not just a superficial follower.
From the 3rd Festival of Time Management Wings
Affiliation with Al-Qaeda
The young man I met was a former member of the "Al-Qaeda" organization, who was arrested during the campaigns launched by the Saudi security forces against the organization and its members. And now, after spending about 17 years in prison, he began to have many intellectual revisions, and cultural and behavioral changes during the years of his arrest, after he was sentenced for belonging to a terrorist organization, and he was part of his media cadre and his propaganda apparatus.
The art exhibition, which included many plastic and craft works, and the meeting took place in it, was in one of the halls that were crowded with inmates, visitors, families and journalists in the "Al-Ha'ir" prison of the "General Investigations" in the Saudi capital, Riyadh, where it witnessed the third festival of "Time Management Pavilions". They are wings in prisons, designated for detainees who manage their activities on their own, and through this they try to develop their skills and make use of their time in several fields: artistic, cultural, sports, crafts… and others!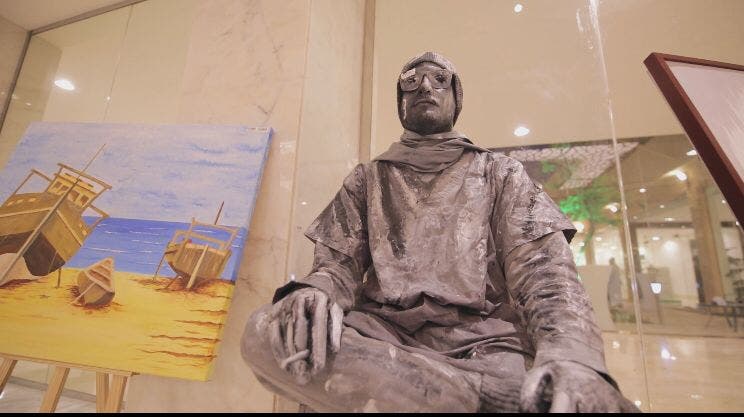 From the 3rd Festival of Time Management Wings
Al Qaeda archive!
Returning to the young man I met, who was a former member of the "Al-Qaeda" organization, it was a coincidence that he was the one who possessed a large part of the photographic archive of "Al-Qaeda" operations and training, and it is the archive that became in the possession of the "General Investigations" shortly after the arrest of The young man, and part of it was used in an important documentary film, entitled "How did Saudi Arabia confront Al-Qaeda?", produced by OR Media, broadcast by Al-Arabiya in 2015, and I watched the film in its three parts before it was shown on the screen, where I worked on preparing summaries News and extensive reports about him for the "Al Arabiya.net" website and the channel's social networks.
It was a confusing moment, with a lot of feelings for me, to meet someone like this young man, who stirred up a lot of ideas for me, especially since after I went away from him, I saw him heading towards me again to introduce me to his sister and her son who came to visit him and learn about the activities of the festival, Especially since one of the objectives that the General Investigations seeks to achieve is to make the families of the inmates aware of the details of the lives of their detained children and the activities they do, so that there is no interruption between the families.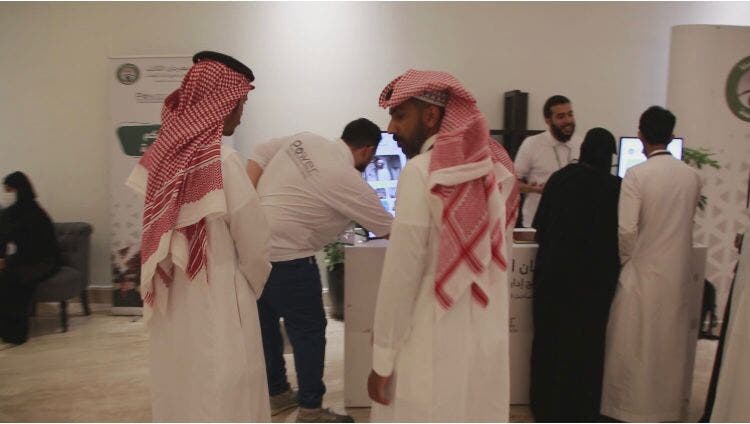 From the 3rd Festival of Time Management Wings
family meeting
To stand for a moment with members of the family of a young inmate in prison, and talk to them, especially since his sister is in the position of his mother, is a difficult test, but the most important thing is to give them hope and confidence that their son is fine, and that here is not revenge or hatred for him, but because of his actions In violation of the law, it has threatened the security and safety of society, while he is serving a sentence against him, and most importantly, he is now engaged in several daily activities, and makes use of his time – as much as possible – without wasting his years of life. He became a person with a completely contradictory vision with his previous approach.
I addressed his sister, saying to her: I know the feeling of waiting for the families of the detainees, and your great eagerness to meet your brother abroad, and everything is in the hands of God Almighty; However, the most important thing is that your brother is fine, and a smile rises on his face, a smile that is not artificial, but can be clearly seen, and his relationship with officers, soldiers and his colleagues in the "time management" wings is very good… I continued to talk to her about the development of his personality and his cognitive changes, which is the aspect Of high importance, which would make him ready to integrate into public life more easily after his release and the expiry of his sentence.
Jot down ideas!
The smiling young man was not satisfied with that, but showed me a pamphlet he is working on, which contains several intellectual revisions, and he is seeking in the future to contract with a publishing house and print it.
He is not alone, but there is another colleague of his, who is working on writing a novel, in which he tells his biography, the changes he went through, how he was, and what he and a group of his companions have become now.
Evolution Stories!
This is one of the expressive stories, which indicates that the aim of all these activities in the "time management" program in the "General Investigation" prisons in Saudi Arabia is for the inmates to benefit from the options available to them, and to develop themselves and their experiences, and not to be between them and the "Vision of the Kingdom". 2030" gap, so that they keep pace with the ongoing reform process in society.
Containing these inmates, engaging in frank and free discussions with them, making them aware that they are part of this society, and that they are Saudis, the daughters and sons of this country, and that what is meant is to change the negative, fundamentalist or violent thinking that led some of them to engage in terrorist organizations, support takfiri discourses, or adopt ideas harm the security and stability of Saudi Arabia; That is what is meant, meaning that "prison" is not a place for revenge. The state is not an instinctive, bloody entity that practices violence against citizens. Rather, it is an entity whose function is to regulate public affairs, ensure citizens' rights, security and safety, enforce the law and maintain public order.
It is one of several stories that deserve to be told. There are girls and young men who are brimming with vitality. They have committed mistakes, some of which are very serious, as a result of historical circumstances and contexts, inflammatory speeches and intense media campaigns in previous periods. They insist on a rupture with the past with all its problems, after it became clear to them that violence, atonement, bearing arms, loyalty to the outside and incitement, all of this will not work.