Today, Friday, the United Nations Security Council condemned the hijacking of the "Rawabi" commercial ship by the Houthi militia. The Security Council also said that "the escalating attacks represent a threat to maritime security in the Gulf of Aden and the Red Sea."
In a statement adopted unanimously, the council called for the "immediate release of the ship" seized by the Houthis in early January and its "crew", according to diplomatic sources told AFP.
The statement drafted by the United Kingdom condemned the detention of the "Rawabi" ship. The statement, seen by Agence France-Presse, added that the 15 council members demand "all parties to resolve this issue quickly" and stress "the importance of freedom of navigation in the Gulf of Aden and the Red Sea in accordance with international law."
At the conclusion of its statement, the Council urged "all parties to stop the escalation of the situation in Yemen and to cooperate constructively with the United Nations Special Envoy for the resumption of the inclusive political talks."
The representative of the United Arab Emirates to the United Nations said on Monday that the Rawabi ship, which was kidnapped by the Houthi militia, was carrying medical aid, noting that it was carrying equipment for the field hospital on Socotra Island.
An American ship in the Gulf of Aad (archive)
The representative of the Emirates said that the crew of the Rawabi ship includes 11 people of different nationalities, calling for the immediate release of the ship and its crew.
In a letter from the UAE government to the Security Council, the UAE delegate said that the hijacking of the "Rawabi" ship is not the first incident of the Houthis in the Red Sea, as the Houthi militia had intercepted and detained at least 3 commercial ships before.
She added that the Houthi militia targeted 13 commercial ships with booby-trapped boats and mines, stressing that Houthi piracy contradicts international law.
The UAE delegate emphasized that Houthi piracy raises real concerns for the freedom and security of navigation and international trade in the Red Sea.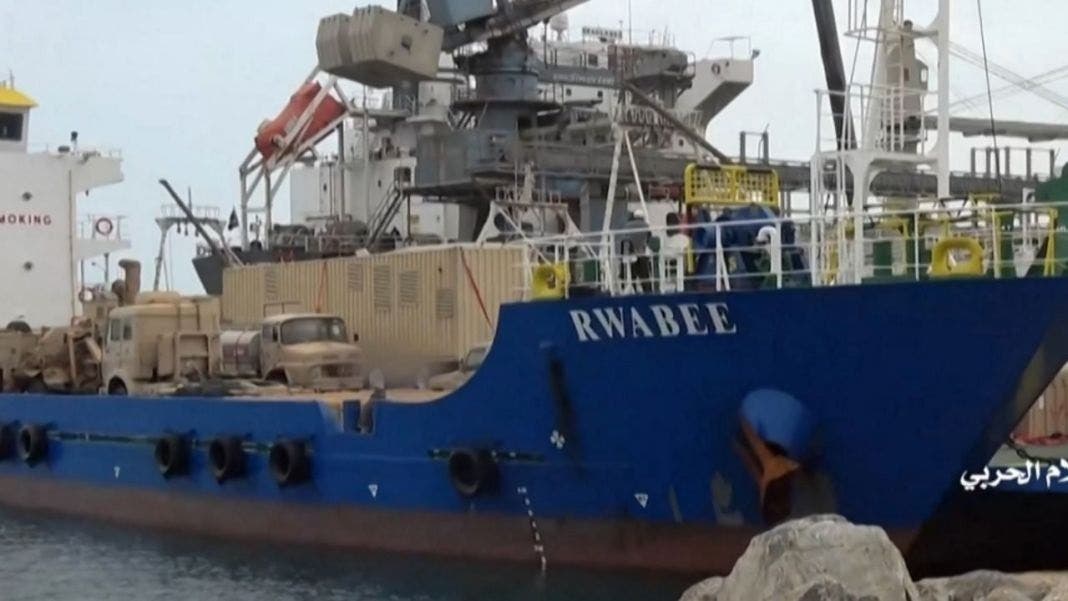 The hijacked Rawabi ship by the Houthis
On January 3, the Coalition to Support Legitimacy in Yemen announced that a cargo ship had been hacked and robbed by the Houthi militia off the Yemeni city of Hodeidah.
The spokesman for the coalition forces, Brigadier General Turki Al-Maliki, said in a statement that the ship was hijacked and hijacked at 23:57 pm on Sunday, January 2, 2022 while it was sailing opposite Al Hudaydah Governorate.
He also added that the ship was on a naval mission from Socotra Island to the port of Jizan, carrying on board all the field equipment for operating the Saudi field hospital on the island after the end of its mission and the establishment of a hospital on the island.