Few things produce more satisfaction than completing the Camino de Santiago. It is a journey of introspection that helps cleanse the body and mind. But even more satisfying is being able to share this experience with a group of young North American and Spanish students, delving into the true and very real power that the personal union of our young people has. They are the ones who will take up the torch of the future relationship between our two countries.
My interest was piqued by my friends María Díaz de la Cebosa and Julián Linares when they told me about a youth exchange program that they support through the Foundation for International Studies. This program brings American students to Spain every year to complete the Camino de Santiago together with their Spanish colleagues. In this case, the Americans came from Miami, Florida, as students at Miami-Dade College—one of the largest educational institutions in the United States—and from a public institute in the neighborhood where I grew up, the Bronx, in the city from New York. For their part, the Spanish teenagers who joined us had just completed a two-year American English course supported by the US Embassy in Spain. My goal along the way was to learn first-hand about the experiences and vicissitudes of these young people (our diplomatic citizens) and that is why I decided to join them on their 100-kilometer journey along the Camino.
We live in an increasingly digital world, communicating remotely through applications and emojis, but nothing can compare with face-to-face interaction, walking shoulder to shoulder with other people. Connections between people, such as those created through international exchange programs like this one, are one of the pillars of diplomacy and the basis of trust between nations. They challenge prejudices and cultivate empathy. They also improve language skills. By improving their English and learning more about American culture, Spanish teens (many of whom are immigrants or children of immigrants from Latin America, Africa, and Eastern Europe) broaden their career prospects and open up the possibility of studying at American universities in the future. For their part, many of the students from Miami and New York grew up, like me, speaking Spanish at home.
and this was an opportunity for them to discover the complexities of Spanish that spoken in the country where the language was born. This knowledge brings with it a deeper respect for the common cultural heritage, but also a more realistic perspective of the country that Spain is today.
The students spoke in English and Spanish, sharing stories of their lives in their respective countries, their favorite music, the latest trends on social media, and their academic and professional aspirations. Americans have discovered the complexities and subtle differences with the Spanish spoken in the cradle of the language. The Spaniards have learned about university life in the United States and other opportunities open to young foreigners in my country, such as exchanges and summer work camps and experiences.
Everyone has asked many questions, some uncomfortable, about the economic, social and political challenges in their respective countries. How do young Hispanics see the cultural legacy of Spain in the American continent? What can Americans learn from today's modern, democratic Spain? What does a war on their eastern border mean for young Europeans? In fact, one of the participants, who arrived in Spain from Ukraine as a refugee, has shared his own experience. He recounted the challenges of leaving his homeland behind, resettling, meeting new friends and learning a language from scratch.
In just a few days, I have watched these young diplomats grow while developing crucial qualities in our globalized world: cultural sensitivity, tolerance and respect for others. I have no doubt that they will never forget these teachings, which will certainly determine the path they take as they grow and become adults.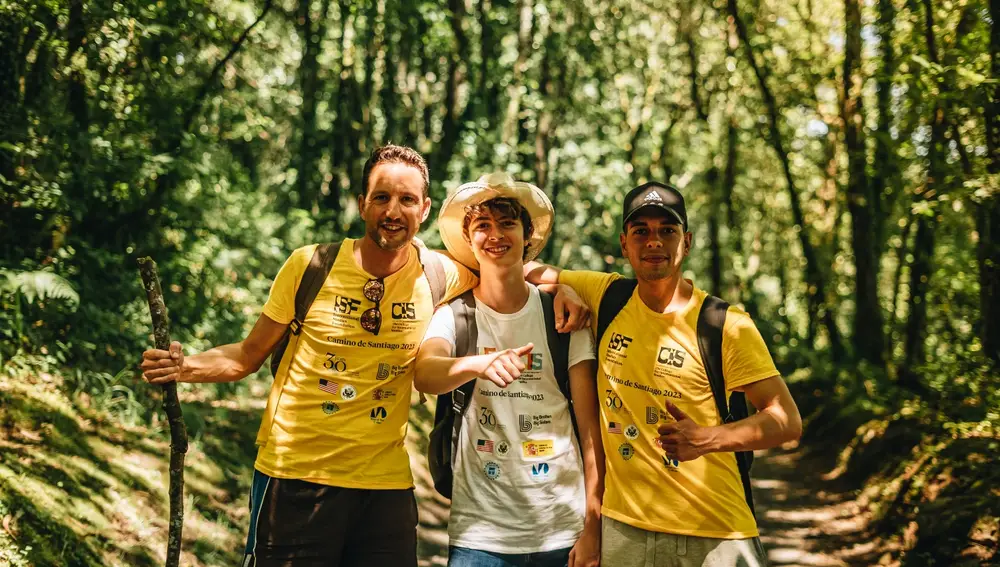 All young people, regardless of their origin or income, should be able to benefit from an international experience. Since 2001, the United States Department of State has offered scholarships—more than 3,600 in the 2022/2023 academic year—to students from the United States with few resources to study abroad. This year, Spain has been the preferred destination, another example of Spanish hospitality and the value of the work carried out in Spain by governments at the national and local level to create a receptive and welcoming environment for foreign students.
We want that number to continue growing and also for more Spaniards to choose to do an educational exchange in the United States. We work to create links between universities and, more recently, between higher vocational training institutions in Spain and their equivalents in the United States, the "community colleges." With these initiatives, we seek to expand the diversity of people who can benefit from linguistic and cultural knowledge that results from a stay abroad. At the same time, we provide free consultation and information services in our EducationUSA centers so that young Spaniards can consider the possibility of going to study in the United States. In this way we contribute to the training of the professionals of the future who will be the ones who transform our economies while building more prosperous, sustainable and equitable societies in the 21st century.
As I have learned on the Camino, the United States and Spain share a common history and culture. Today, We battle in the fight for a more inclusive future and for new opportunities for our young people, regardless of their class, origin or future profession. In my country, there are also exciting paths and opportunities for Spanish students. Let's explore them together.