The Under-Secretary-General for Technical and Service Affairs at the Presidency of the Two Holy Mosques, Muhammad Al-Jabri, explained that the surfaces of the Grand Mosque and its facilities were sterilized with 15,000 liters before receiving the first delegations of pilgrims coming to perform the circumambulation.
He added: "More than 50 workers, accompanied by 30 field supervisors for disinfection and perfuming work, participated in the sterilization work this morning. More than 500 automatic hand sterilization devices with a sensor feature, 20 Biocare devices, and 11 robots contributed to the protection of the pilgrims."
He pointed out that the sterilization operations were carried out after the performance of the first group of hermitage without impeding movement, as the movement of the agency's workers was organized in a regular manner, starting with the preparation of materials and tools, without affecting the pilgrims' paths.
Sterilization around the clock
Al-Jabri said: "Each process took 10 minutes, and as for sterilization procedures, they are not linked to a specific time period, but rather take place around the clock, and 7 thermal cameras, through a color-dealing mechanism, monitored the body temperature of the first group of pilgrims, as the cameras are far away. Thermal temperature with a maximum of 6 meters per person, which is of high accuracy, and can distinguish the pilgrim who shows symptoms of high temperature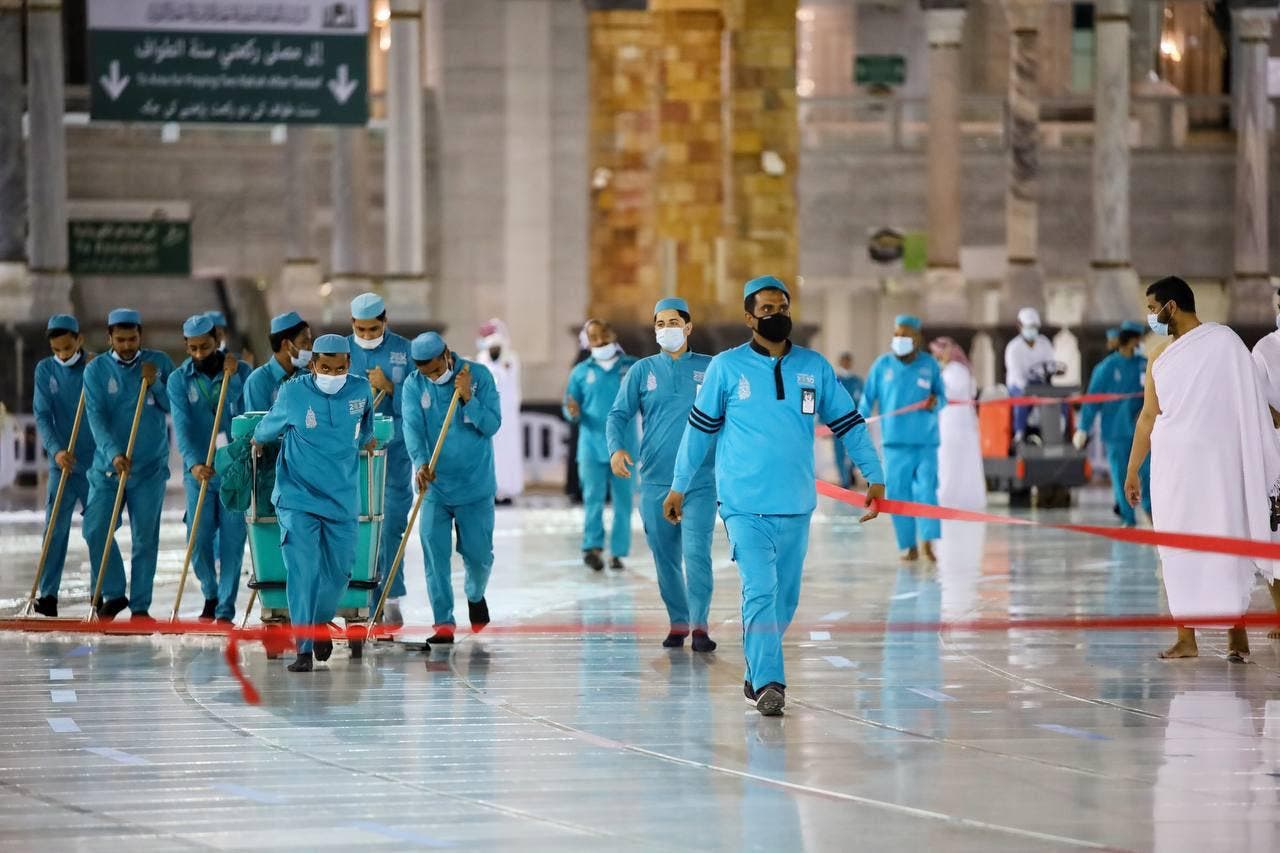 Sanitizing the corridors of the campus
He stated that more than 30 thousand Zamzam packages were distributed to the first group of pilgrims, through more than 60 steel carts, and 15 distribution carts on the circumambulation paths, each carrying 100 packages, and care was taken to distribute Zamzam water packages without human intervention through a robot. In application of precautionary measures, and taking advantage of artificial intelligence to serve the pilgrims.
And Aban, these robots can distribute 30 packages in one round, where the round takes less than 10 minutes, and it can work for eight hours continuously, and is distinguished by standing for 20 seconds; To be able to go to the house of God to take a bottle of Zamzam water.
He concluded his statement: "Preparations to receive the rest of the regiments have been made, and a field stand is currently underway with the relevant authorities, to ensure the safety and readiness of all sites to the fullest, strengthening them with our technical and service cadres, and intensifying the precautionary and preventive measures to serve the pilgrims."
.