The General Presidency for the Two Holy Mosques has restored the signs of physical separation between worshipers in the Grand Mosque in Makkah Al-Mukarramah and the Prophet's Mosque in Al-Madinah Al-Munawwarah, as part of precautionary measures, with the aim of applying the distance between worshipers, and redistributing chapels, starting today, Thursday, 05/26/1443 AH, in implementation of the directives issued after the increase in Infections with the Corona virus – Covid 19 and its mutated strains.
Placing stickers on the carpets of the Prophet's Mosque
The presidency provided all the services needed by worshipers and visitors, and intensified sterilization operations in accordance with the precautionary measures that ensure the safety of all, and in a manner that achieves the aspirations of the rulers in preparing the Two Holy Mosques for visitors and providing the finest and finest services for them to perform their worship in comfort and tranquility.
The Presidency noted that it is working in full coordination and effective partnership with various government agencies and the security and health sectors in the Two Holy Mosques, so that work is complementary between the various sectors in order to achieve the highest standards of accuracy, quality and speed in dealing with emergencies.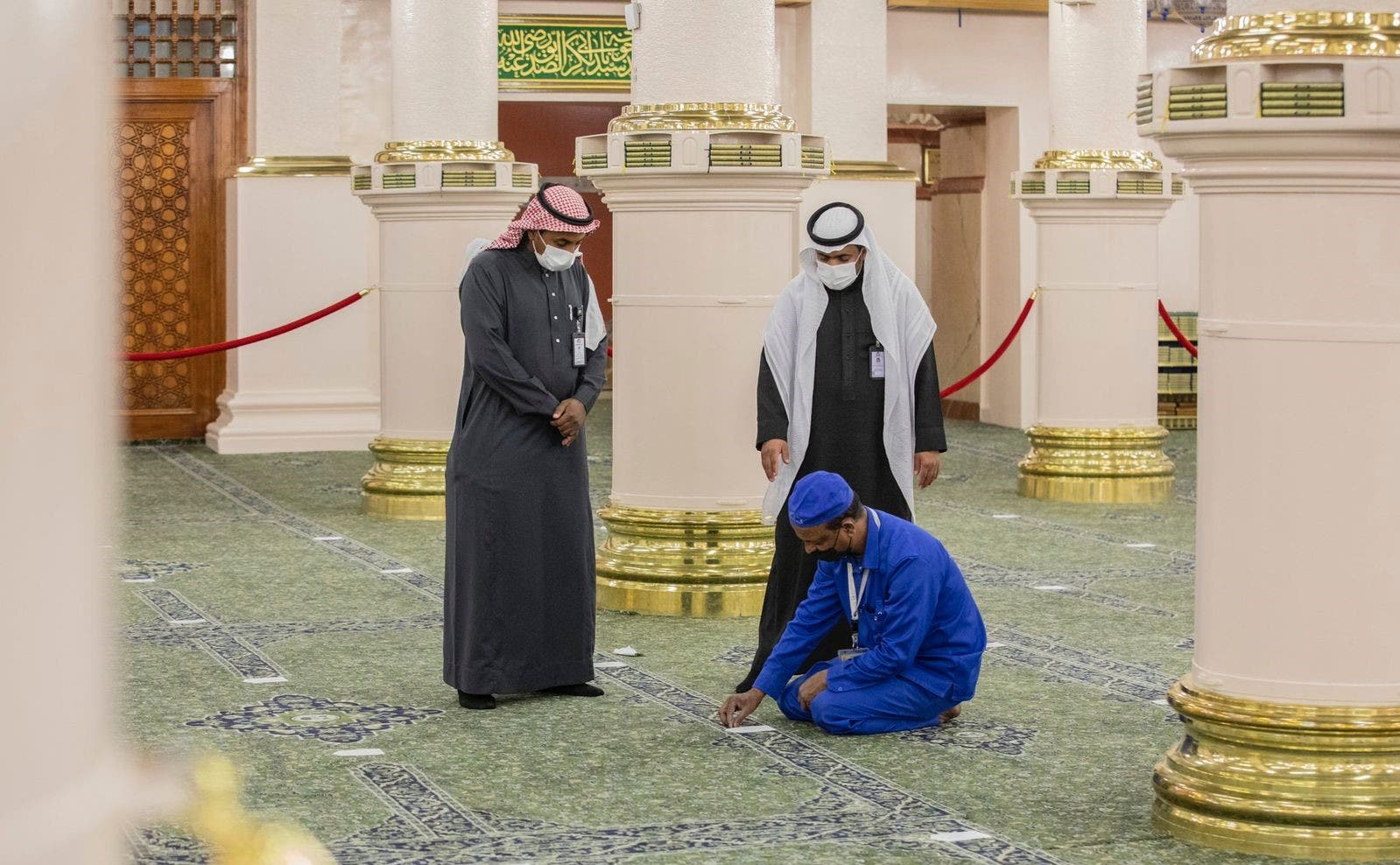 Putting spacing stickers inside the Prophet's Mosque
The Presidency of the Two Holy Mosques stressed the need for everyone to adhere to all precautionary and preventive measures, including physical distancing, wearing a mask, and avoiding crowded sites, in order to ensure the safety of pilgrims and worshipers in the Grand Mosque and the Prophet's Mosque.