Zamzam water is one of the most blessed waters for Muslims, and one of the greatest on earth. Zamzam water is served in the Prophet's Mosque in sterilized and refrigerated containers.
The Arabs took care of Zamzam in the past and presented it to pilgrims and visitors to the House of God, generation after generation, until the era of the Kingdom of Saudi Arabia came, and it completed a journey that extended for thousands of years. Pilgrims, Umrah pilgrims and visitors to the Prophet's Mosque, offering them watering Zamzam water, in order to please God Almighty and care and concern for visitors to the Two Holy Mosques.
Distribution of Zamzam water bottles in the places of worshipers
watering management
The Agency of the General Presidency for the Affairs of the Prophet's Mosque seeks to develop its work in all fields so that the giving of this blessed country continues by providing the best means of comfort for the visitor to the Prophet's Mosque. And the intensification of Zamzam watering works inside the Prophet's Mosque, its surface and its courtyards, and the watering department is preparing all services and facilities, to ensure easy access to Zamzam water for all visitors to the Prophet's Mosque 24 hours a day.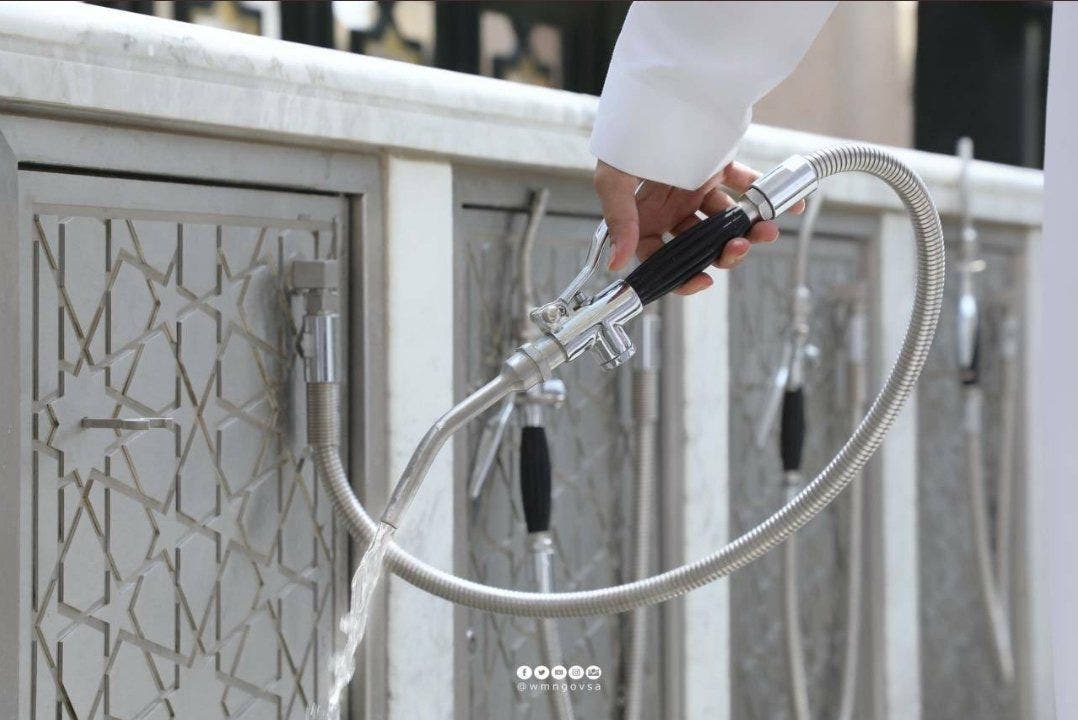 Zamzam water filling
Offering zamzam water
The administration is working to provide Zamzam water through fixed containers, single-use packages and backpacks, in addition to providing cooled water through drinking fountains (mashrabiyas) and providing water to individuals through the Zamzam water project and supplying mosques with blessed water, and this is done under the follow-up of a team Working in the Watering Department with cadres prepared for this purpose.
While the administration distributes more than 30,000 bottles of Zamzam water daily, and the number of fixed Zamzam containers on the ground is 8,000, in addition to distributing more than 4,000 bottled water bottles, and the inclusion of more than 1,200 drinking fountains under service in the courtyards of the Prophet's Mosque non-stop over the course of a year. today.