Last Updated: 06 May, 2022 07:04 AM
Published: 06 May 2022 07:04 AM
Last Updated: 06 May 2022 07:04 AM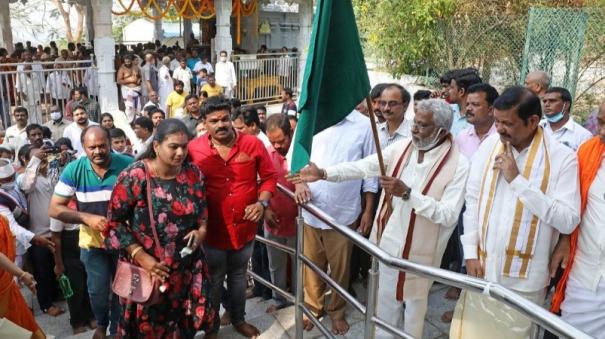 Tirupati: The Sreewari Mettu walkway near Tirupati Srinivasa Mangapuram is very old. If you go to Thirumalai via this route you can go faster than the Alibri Hill Trail. The steps are low. Thus, it is customary for many devotees to travel to Thirumalai via this route.
It is said that many kings, including the Vijayanagara emperor Srikrishna Devarayar, and even the Alvars reached Tirumala by this route. Legends and legends say that Ezhumalayan also went to Thirumalai by this route after getting married. This famous road was damaged by floods due to heavy rains in November last year. Thus, the path was closed. Repairs were then made.
Stairs, water supply and toilets were constructed at a cost of Rs 3.60 crore. Tirupati Devasthanam Trustee Y.V. Supparetti was highly praised. Also, he started waving the flag on the trail yesterday morning. Through this a large number of devotees walked to Thirumalai. They were also given divine vision tokens as before. In this way they can see the Lord sooner than the omniscient devotees.
10 Battery Cars Donation
Devotees are now flocking to Tirumala in large numbers to visit the Tirupati Seven Hills. In this, the elderly and the sick are also visiting the Swami.
As the corona spread has decreased, Tirupati Devasthanam is now making arrangements for special darshan for senior citizens as well. Battery cars for senior citizens are being driven up to the temple front tower.
As part of this, Kolkata-based businessman Prakash Chaudhary handed over 10 battery cars worth Rs 50 lakh to Dharma Reddy, an additional executive at Devasthanam in front of the temple yesterday. Later special pujas were performed for those vehicles and brought for the use of the devotees.
.