A young man from Badwel of Kadapa district walked more than 2000 kilometers in one go with his admiration for Prime Minister Modi. Pattipati Narasimha, a young man working as a hotel manager, tried to meet Prime Minister Modi on his birthday. But as the Prime Minister was busy, he was disappointed that he could not meet him. He told Samayam that no matter how many days he waits, he will return after meeting the Prime Minister. If we go into the details that he revealed with the representative of time..

Pattipati Narasimha from Badvel works as a manager in a local hotel and does agricultural work. He is a fan of Prime Minister Modi. He started on foot from Badwel on July 17 with the intention of meeting Modi. After walking 2015 kilometers for 54 days, he reached Delhi on September 8. He traveled 500 to 600 km. Narasimha said that he walked in the forests. He walked in the rain for 40 days. People from other parties say that they will give one lakh rupees and they will go back.. but he said that his admiration for Prime Minister Modi is priceless.

Narasimha sought an appointment to meet Prime Minister Modi on his birthday on September 17. But Prime Minister Modi was not able to meet him as he was visiting Uzbekistan and Madhya Pradesh. Narasimha said that he had sought an appointment from the PMO on September 12 to meet the Prime Minister. He said that he would give an answer in 3-4 days, but he has not received an answer so far.

Narasimha said that BJP workers provided accommodation during his padayatra. He said that after crossing Telangana, he faced difficulties in terms of food… Sometimes he could not even find a room to sleep in. So he used to sleep in gulches and petrol stations. He said that he spent up to Rs. 20 thousand to go from Badvel to Delhi. A boy from Medak district came with me for two days. For the last two days a boy named Kumar came from Jadcharla and joined me. Then he went back,' said Narasimha.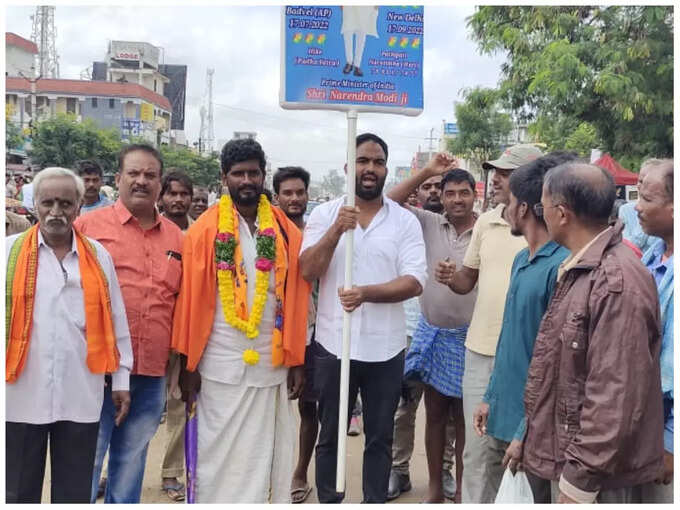 "BJP leaders gave me a room 23 km away from Delhi for my stay. No matter how many days.. I will come to meet the Prime Minister. I did not get cooperation from AP leaders. I met Union Minister Kishan Reddy. He asked the Prime Minister to take the appointment. Narasimha said, "Why is his PA an unnecessary effort, a household waste?"
"Prime Minister Modi is a very good person. Such a prime minister has not come to us so far.. I do not believe that he will come in the future. He is working to lead the country on the path of development. Prime Minister took the initiative for the construction of Ayodhya Ram Temple. Lockdown was implemented to prevent Corona. Vaccination process was carried out all over the country. Article 370 was repealed. Triple Talaq was abolished. Efforts were made to improve the economic condition of the country. Har Ghar Tiranga program was brought. Many people sacrificed for the freedom of the country. The situation has changed that any leader can fly such a banner. Every common man could hoist the national flag. Narasimha commented that the soul of the freedom fighters will now rest in peace. Let's hope Narasimha meets PM Modi soon.