Outrageous. Tony Rosado did not assume his responsibility after the Ministry of women announced that it will take legal action against him by stripping a woman naked on stage at one of his concerts. The singer assured that It was all part of a contest and he never saw anything wrong with his regrettable actions.
What did Tony Rosado say after stripping a young man in concert?
Tony Rosado He spoke out after different media outlets rejected the attack he carried out against a woman in front of hundreds of spectators during one of his concerts in Puerto Maldonado. The singer responded to the press and noted: "Ask for forgiveness from my wife, my daughters and especially the lady who participated in this contest. "I apologize, I ask for your forgiveness, more than anything for everything that has happened, for having participated in this contest that I should not have participated in."
Tony Rosado on undressing a young man at a concert: "They are used to it." Photo: LR composition/video capture/Tony Rosado/LR
However, he justified his actions by declaring that it was a competition: "It was a contest, I did not know that. Then they asked a girl or any boy, mostly women, to go up on stage and take off their underwear and they gave them a case of beer. Let's say that there are those contests and they are already used to them here, in Puerto Maldonado."
Ministry of Women will take action against Tony Rosado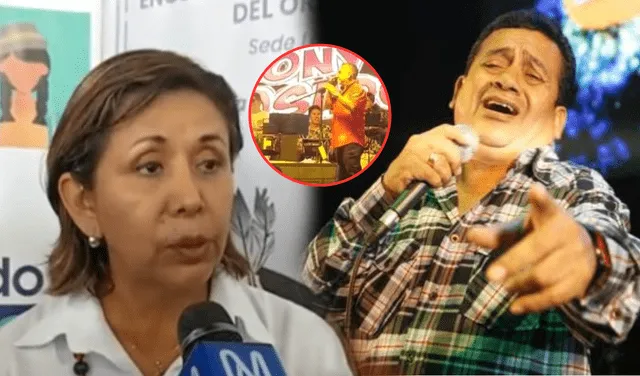 Tony Rosado will be investigated by the Ministry of Women. photo: LR composition / Captura América / Facebook
After the unfortunate events, the Minister of the Women and Vulnerable Populations (MIMP), Nancy Tolentino Gamarraspoke out and assured that They will take action against Rosado. "Definitely, We will take action because we are against all forms of violence, wherever it comes from, and we will ex officio denounce any transgression. The woman is not an object, she is not a thing (…). I reject all forms of violence", he stated.
Help channels
If you are or know someone who has been affected or involved in acts of family or sexual violence, Contact Line 100 of the Ministry of Women and Vulnerable Populations for free.which has a team specialized in "providing information, guidance and emotional support."