UpdateFormer President Donald Trump (76) arrived at court in Manhattan on Tuesday afternoon local time (Tuesday evening Dutch time). He did so in style: he got out of one of the five black cars of a convoy and waved. Trump was immediately arrested upon entering court in the investigation into paying hush money to porn star Stephanie 'Stormy Daniels' Clifford.
Trump has been indicted in that investigation. The exact indictment – with about thirty parts – has not yet been made public prior to his arrest and arraignment. The payment of hush money to Stormy Daniels in 2016 is not a crime in itself, but the way it was processed administratively would be according to American media. Trump has turned himself in, after agreements with the judiciary. He will hear the exact charges in court. He is expected to say he is innocent.
In court, Trump will undergo standard procedure: he will be arrested and his fingerprints will be taken. He may also be photographed, though that's not certain yet, but if he does, it will make for one of the most famous mugshots in decades. He will then hear the exact charges in court.
Read also: Who is Stormy Daniels, the porn star who puts Donald Trump in trouble?
Text continues below the photo
Safety precautions
New York has taken proper security measures ahead of Trump's arrival. The police have placed metal fences around Trump Tower and the streets around the courthouse in Manhattan have been hermetically sealed. Several courtrooms will also remain closed today.
The police are extra alert to protests from both supporters and opponents of Trump. Hundreds of demonstrators gathered around the court earlier in the day. At one point, police had to intervene when a Trump supporter tried to tear up a banner held by an opposing protester. The entire police force has been called up today in uniform.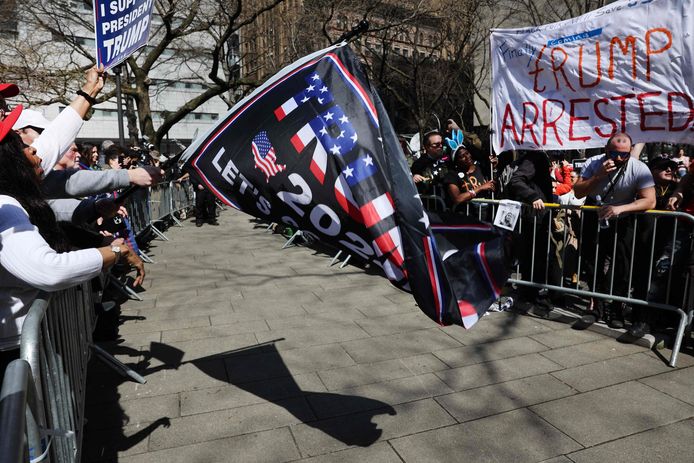 Speech at Mar-a-Lago
It is the first time that a former or sitting president has been charged with criminal charges in the US. After leaving Trump Tower on his way to court in a convoy, he (or someone on his behalf) posted a message on his own social medium, Truth Social: "On the way to Lower Manhattan, the court. It seems so unreal – Wow, they're going to arrest me. I can't believe this is happening in America. MAGA' (where MAGA stands for Turmp's popular slogan: 'Make America Great Again', ed.).
Earlier in the day, he complained on the same medium Truth Social about the location of the arraignment and about the 'biased' judge. The former president wants his business moved from Manhattan to Staten Island, another of New York's five boroughs. Trump assumes he cannot get a fair trial in Manhattan because it is a Democratic stronghold.
In addition, he argues that Judge Juan Merchan was "an unfair disaster" in a previous Trump-related case. Merchan convicted The Trump Organization of fraud and imposed fines. Trump says that trial and the current case are both part of a "witch hunt" against him designed to prevent his participation in the next presidential election.
Trump has announced that he will fly back to his residence Mar-a-Lago in Florida after his arraignment to give a speech. This is planned from approximately 02.15 am Dutch time.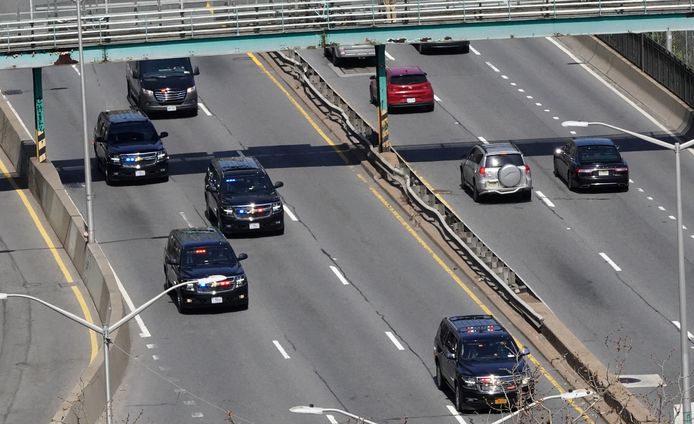 Former US President Donald Trump arrived in New York today for his arraignment:
Free unlimited access to Showbytes? Which can!
Log in or create an account and don't miss a thing of the stars.

Yes, I want free unlimited access