Turkish Defense Minister Hulusi Akar warned Greece against testing his country's patience over what he described as Greek provocations, including the threat to expand its territorial waters in the Aegean Sea.
Speaking to a group of journalists in Ankara on Saturday, he said that his country wants to resolve disputes with its neighbor and fellow NATO member Greece through dialogue and turn the Aegean Sea into a "sea of ​​friendship", but he accused Athens of militarizing the islands near the mainland of Turkey, in violation of agreements International.
Greece and Turkey have long been at odds over a series of disputes, including territorial rights in the Aegean and energy exploration rights in the eastern Mediterranean.
Tensions erupted in the summer of 2020 over exploratory drilling rights in areas in the Mediterranean, with Greece and Cyprus claiming their exclusive economic zones.
Image showing the border area between Greece and Turkey (Istock)
"NATO refuses to sell us arms"
In parallel, the Turkish Defense Minister expressed his regret over what he described as the "overt or covert" arms embargo on Turkey by some NATO allies, saying that these countries "weaken" the alliance by not selling defense components to Turkey, in a press interview in the capital, Ankara.
Akar said that talks with the United States about Turkey's request to buy F-16 fighters, instead of the $1.4 billion it paid in advance as part of the F-35 price, are still going on.
In response to a question about the growing tensions over the Russian military build-up on Ukraine's borders, Akar said Turkey wanted to settle the conflict "as calmly and cautiously as possible."
He added, "Our vision from the beginning is: We are for peace and conflict resolution through negotiation. Let's not escalate tensions, let us refrain from any provocative behavior.. That's why we always tell our interlocutors that it is very important to act with caution."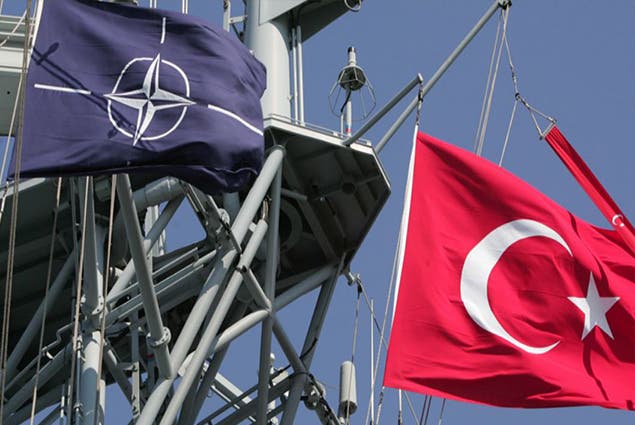 Flag of Turkey and NATO
Sanctions on Turkish officials
The United States imposed sanctions on some Turkish defense officials, and excluded Turkey from the US-led F-35 fighter jet program, after Turkey purchased the advanced Russian S-400 long-range missile defense system.
Meanwhile, Washington justified its decision because of concerns about the threat of Russian technology to combat aircraft.
Canada also revoked licenses to export drone technology to Turkey last April, after finding that Turkey's ally Azerbaijan had used the equipment in its war against Armenian forces around the Nagorno-Karabakh region.
In October 2019, Canada joined some European countries, including France, Britain and Germany, in suspending arms exports to Turkey after Ankara launched a military operation in northeastern Syria against Kurdish fighters.