Ukrainian President Volodymyr Zelensky called for a four-way summit with Moscow, Paris and Berlin to end the conflict with pro-Russian separatists in eastern Ukraine, against the backdrop of international tension with Russia.
Today, Tuesday, he stressed that it is time to reach an agreement to end the conflict, indicating his country's readiness to take the necessary decisions during a new four-way summit, when he received advisers to the French president and the German chancellor, according to a statement issued by the Ukrainian presidency.
He also added that Russia does not have the right to determine the possibility of his country joining the North Atlantic Treaty Organization (NATO).
Zelensky's statement comes amid an escalating crisis on the country's eastern border, with Russia massing tens of thousands of troops.
While Kiev confirms that Moscow wants to invade its lands, the latter denies this and asserts that its actions do not threaten anyone.
Threatening to punish
Over the past months, the United States and its NATO allies have warned against moving Russian forces to the border region, hinting at severe sanctions on the Russian economy if there is an invasion of Ukrainian territory.
NATO Secretary General with the Ukrainian President at a press conference December 16, 2021 (AFP)
On the other hand, the North Atlantic countries displayed their support for Ukraine in ways that Moscow considered provocative, as they included naval exercises last November (2021) in the Black Sea, and the delivery of a batch of American patrol boats to the Ukrainian Navy.
do not agree
The talks that took place on Monday between Russia and the United States with the aim of defusing tensions did not lead to a consensus, especially with Moscow's insistence on providing guarantees to prevent NATO's expansion towards the east, and even the retreat from the spread of the military alliance in Eastern Europe, which Washington strongly rejects.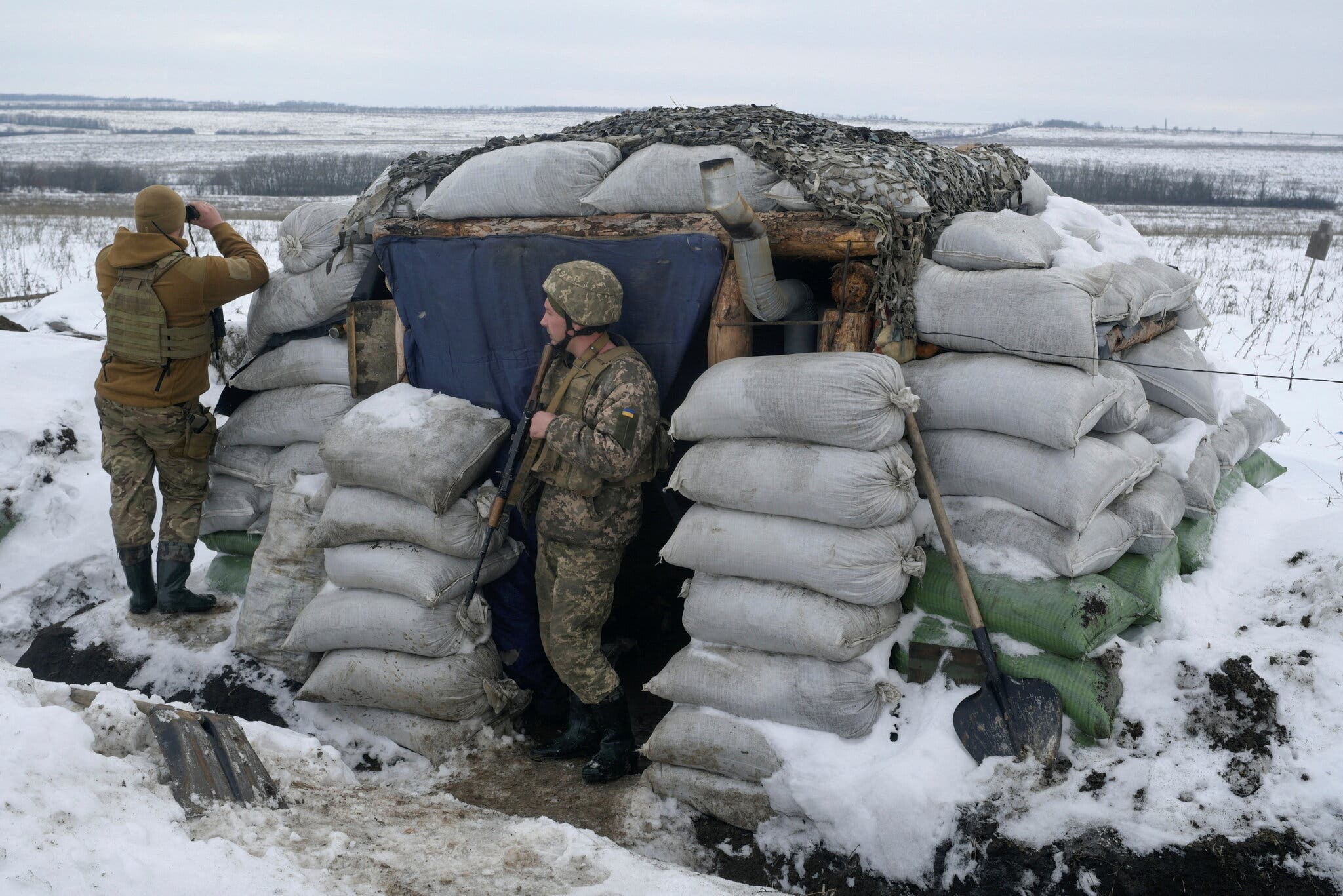 Soldiers from Ukraine at an outpost on the border with Russia
It is noteworthy that the Ukrainian forces have been fighting since 2014, Russian-backed rebels in the Donbass region, and successive ceasefire agreements have not succeeded in restoring calm to the region. These events began with marches in Donbass following the massive protests in Ukraine in 2014, and quickly turned into armed confrontations between separatist forces and the Ukrainian army.