Lucknow: Uttar Pradesh Assembly polls: Unnao to field candidate for mother of sexually abused woman Congress The general secretary of the party said that the party had given the opportunity Priyanka Gandhi Said.
Unnao convicted in female rape case BJP It is noteworthy that former MLA Kuldeep Singh Sengar is currently in jail.
Uttar Pradesh will go to the polls in 7 phases for 403 constituencies. The parties have gone to great lengths to ascertain the list of candidates for this. In which Congress The party has released a list of 125 candidates, including 50 female candidates, in the first phase. Congress General Secretary of the Party Priyanka Gandhi Released this list today.
In which, the country itself was shaken உன்னவ் To Asha Singh, mother of a 19-year-old girl victim of a rape case Congress Given the opportunity to run as a candidate on behalf of. Asha Singh is contesting from Unnao Bangarmao constituency. In the same constituency last 2017 BJP Kuldeep Senghar contested and won as a candidate, this time in the same constituency on behalf of one of his victim's family members.
Announcing the list of candidates, Priyanka Gandhi said, "Our list of candidates should convey a new message. If you have been the victim of rape or torture Congress Supportive. I am a woman; I can compete. This is the slogan of the Congress in the elections. 40 percent of women are given the opportunity.
Candidates must compete for the people issue. Our goal is to strengthen the party. Without campaigning negatively, it will be about development and the development of Dalits and backward classes. I will be in Uttar Pradesh after the election; I will continue to strengthen the party. "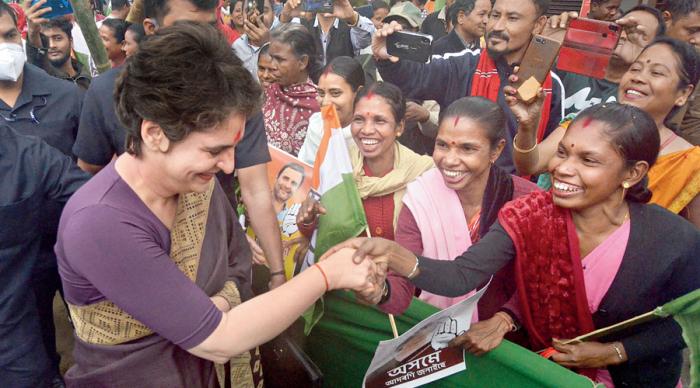 Apart from Asha Singh, Ramraj also fought for the rights of the Gond tribes Congress Seat provided on behalf of. Ramraj has been given the opportunity as he was involved in a legal battle over land for the Kond tribe in Umba village in Sonbhadra.
Apart from that Sonbhadra district Congress Ramraj was also the chairman of the committee. Asha employee Poonam Pandey visits Chief Minister Yogi Adityanath in Shahjahanpur in November last year Congress Has been declared a candidate on behalf of. Arrested and imprisoned in the struggle against the Citizenship Amendment Act Congress Chairman Sadab Jafar has been given the seat.
.