The Bangladeshi batsman got angry after hitting a six in his over Pakistan Controversy erupted when fast bowler Shaqin Afridi threw the ball at the batsman.
In the following domain Bangladesh player Afridi apologized to Hafiz Hussein.
Bangladesh yesterday in Dhaka, Pakistan The 2nd T20 match between the teams took place. Batting first, Bangladesh added 108 runs for the loss of 7 wickets.
Added 109 runs and set a target of victory Pakistan The team lost 2 wickets with 11 balls to spare and won by 8 wickets for 109 runs. from this Pakistan The team took a 2-0 lead in the three-match T20 series.
When the Bangladesh team batted in this match, the team player Abib Hussain for a six Pakistan The throwing of the ball by fast bowler Afridi has been controversial. Afridi bowled the 3rd over, while Hussein, who was on the field, blasted a six off the leg in the 2nd over.
This enraged Afridi who came 3-and threw the ball as a shar ball. However, Hussein defended the ball in the backfoot. Afridi fielded the ball and threw it to Hussein, who was inside the crease. But, even if he leaves Greece, the bowler may threaten to throw him towards the stumps.
But Hussein was standing inside Greece. Afridi, who was fielding the ball, suddenly picked up the ball and threw it at Hussein. Unexpectedly, Hussein returned. The ball bounced off Hussein's leg and rolled into the grease.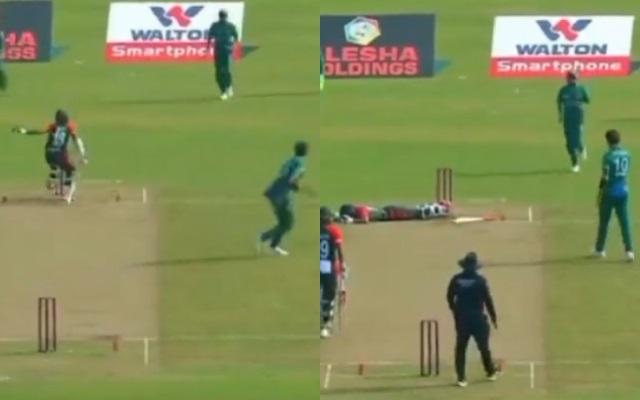 It was only after seeing Hussein throbbing with pain that Afridi realized his mistake and apologized to him. The team's medical team then came and gave first aid to Hussein and put him to bat.
Commentators also condemned the manner in which Afridi behaved unnecessarily angry and outraged that a batsman had hit a six in his over.
.