Lucknow:Led by Chief Minister Yogi Adityanath in Uttar Pradesh BJP Swami Prasad Maurya and Dharam Singh Saini, who resigned as ministers in the government a few days ago Akhilesh Yadav Joined the Samajwadi Party in the presence today
Legislative elections are being held in 7 phases for 403 constituencies in Uttar Pradesh. The 7-phase voting will take place from February 10 to March 7, and the counting of votes will take place on March 10.
UP The LLAs have been leaving the BJP for the past three days on a daily basis since the election date was announced.
Swami Prasad Maurya, the most important leader of the Other Backward Classes community, left the BJP following this. BJP All 4 MLAs met Akhilesh Yadav.
Next, Minister Tara Singh Saini yesterday announced her resignation from the BJP. 7th MLA from BJP and backward caste leader from Chicago constituency BJP MLA Mukesh Verma today quit the party. 8th Pituna Vol BJP MLA Vinay Sakya has also quit the party.
in this situation BJP Swami Prasad Maurya and Dharamsingh Saini, who were ministers in Arasil today Akhilesh Yadav Joined the Samajwadi Party in the presence.
Apart from these, MLAs Bhagwati Sahar, Vinay Sakya, Roshan Lalvarma, Mukesh Verma and Prajesh Kumar Prajapati are also present today. Akhilesh Yadav Joined the Samajwadi Party in the presence.
Apnadalam MLA Chaudhry Amar Singh, former BJP MLA Neeraj Kushwala Maurya, BJP Former MLC Harpal Saini, former MLA of Bahujan Samaj Balram Saini, BJP Former MLA Rajendra Pratap Singh, former minister Vidrohi Maurya, former chief security officer Badam Singh and former Congress MLA Pansi Singh also joined the Samajwadi Party.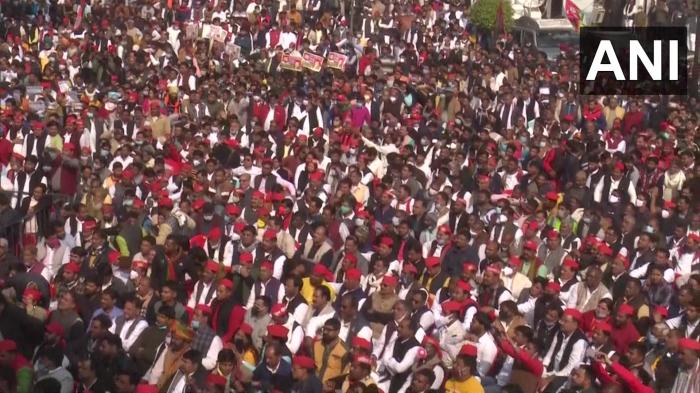 Meanwhile, nominations for 58 Assembly constituencies in 11 districts began today. These 58 constituencies include Shamli, Meerut, Muzaffarnagar, Baghpat, Hapur, Gautam Putnagar, Ghaziabad, Bulandshahr, Mathura, Agra and Aligarh. Of these, 9 blocks are reserved for the list class. Candidature filing for these 58 constituencies starts today and ends on the 21st. The 24th is the last day for consideration of nominations and the 27th is the last day for withdrawal of nominations.
.